Okay, so don't get this wrong. Our products are used to create PDF documents and TX Text Control is the perfect tool to build pixel-perfect PDF documents with attachments, embedded fonts and document access settings in various formats including PDF/A and PDF/A-3b.
Originally invented for exchanging documents, the PDF format is rendered consistently on any device and platform including fonts, images and other elements. The format grew over the years to enable fillable forms, digital signatures, annotations and other features.
With the introduction of attachments in PDF/A-3b, it became the perfect format to exchange electronic invoices that consists of a human-readable version and a machine-readable XML counterpart as an attachment.
When to Create a PDF
When planning or rethinking digital document processing strategies in a product such as an ERP system, invoicing portal or a complete enterprise process structure, one of the key questions is:
When should a PDF be produced in a business workflow?
From our perspective, the answer is very simple: As late as possible.
Important: A document should be editable as long as possible as a dynamic structure that should be updatable at any time.
When is a good time to create a PDF that is basically "write only"? Although, it is possible to make changes to a created PDF document like replacing small bits of text or removing complete pages. But when thinking about a PDF in a way like a printed paper sheet, you will get the idea of how dynamic digital document processing should be.
A document should be editable as long as possible. It is a dynamic structure that should be updatable at any time until the process is finished and a document is created for further processing or archiving.
Consider a procurement portal where suppliers provide their clients an overview of orders and transactions. All details of a transaction are listed and the associated paperwork such as shipping labels and invoices can be viewed.
Store Documents
In your application, there are two options to store documents:
Virtual documents
Store documents in an editable format
All documents can be "stored" as virtual documents until they are actually finished, sent and archived for legal reasons (final invoice for example).
What means virtual in this case?
Documents should be created dynamically "on-the-fly" when it is required based on the most current information and data. Using TX Text Control, such a dynamic document would be created from a template and the required data and then presented in the document viewer. This viewer doesn't require a created PDF document, but is able to render the document that is created dynamically.
This enables updates, changes and modifications on a document at any stage. If your digital document processing strategy implies to create a PDF after a transaction, options are limited. Creating documents dynamically keeps the process flexible, makes the overall process faster and provides the user a better experience.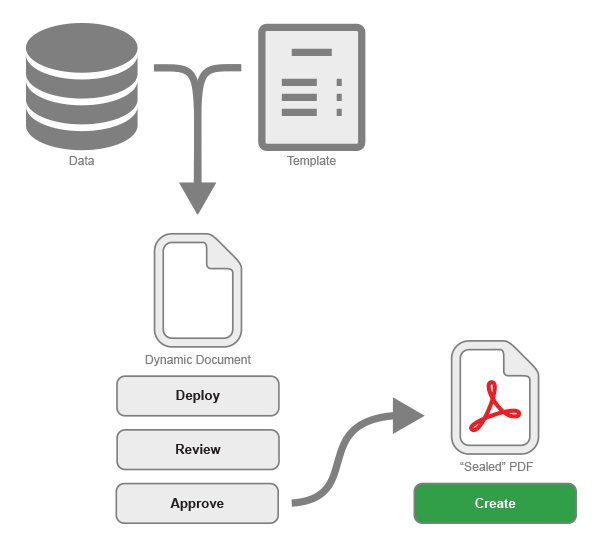 Another option is to store the documents in the current state in a format that can be edited such as Office Open XML or the internal Text Control format.
Create Documents Dynamically
The following screenshot shows an annotated document displayed in the document viewer: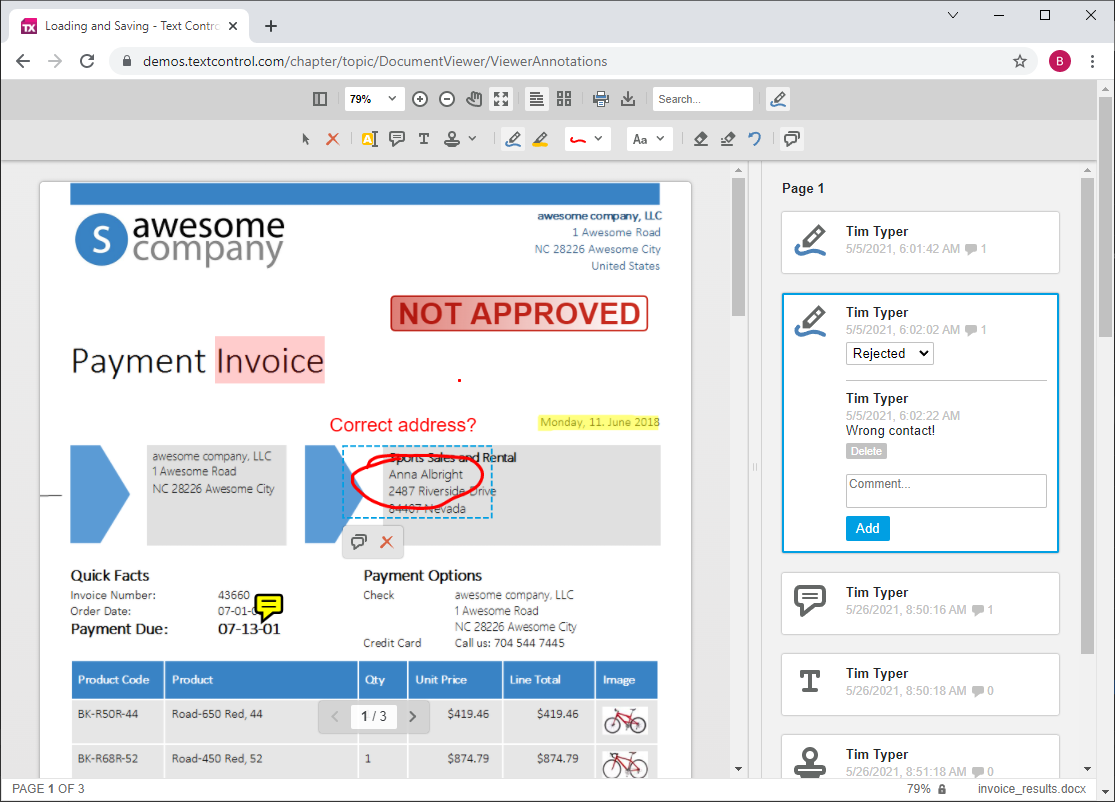 By providing users an integrated document viewing experience that is not only able to show "sealed" PDF documents, but dynamically created documents, you gain several advantages:
Integrated UI

The documents can be shown in an integrated UI as part of your application or portal. No additional PDF viewer is required which gives users a better experience and a better overview of available documents.

Track reader engagement

By integrating a document viewer, the engagement of readers can be tracked. Monitor the actions to see whether a document has been opened, how long it was open or if it has been downloaded.

Share documents

Easily share documents in your portal and provide your users the option to annotate and negotiate content in documents. Highlight content or changed data by deploying documents with an annotation layer.

Take control of the distribution

Control the distribution and circulation of documents by enabling or disabling the ability to download documents.
Even if your documents are virtual - at any point, a "final" version can be created dynamically as a PDF document.
With TX Text Control, you can integrate a complete and streamlined digital document processing strategy into your applications. See our components live by launching the online demo or contact our engineers to learn how Text Control can help you to integrate digital document processing into your projects.
Launch Demo