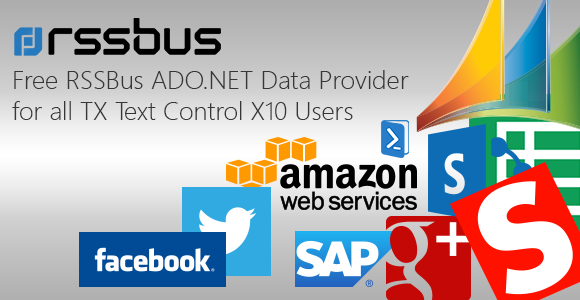 Free ADO.NET Data Provider for TX Text Control Users
We teamed up with RSSBus and are pleased to offer a FREE commercial license of any single ADO.NET Data Provider (up to a $899.00 value) to any Text Control customer with a TX Text Control .NET X10 license.
Using ADO.NET Data Providers from RSSBus, TX Text Control X10 can be connected to Google, QuickBooks, Salesforce.com, Dynamics CRM, and more in minutes.
We fully integrated RSSBus support into TX Text Control Words, the Text Control Reporting template designer. All installed RSSBus data providers are automatically listed in the Select Data Source wizard and can be used as a data source with the MailMerge component.
Apply today for your FREE RSSBus license: