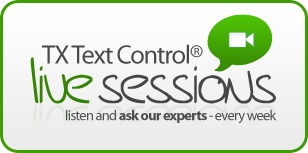 The next TX Text Control online session is planned for next Wednesday, August 26, 2009. This session will be hosted by Ian Blackley again and I will attend to answer technical questions.
Feel free to register in the opposite webinar widget. The session is open for 20 attendees and free of charge.
It provides an overview of TX Text Control and shows typical applications. This is an abstract from the agenda:
MS Word comparison
Benefits of TX Text Control
Applications
Licensing
Additional modules
Support and maintenance
I look forward to welcome you in our next online webinar.