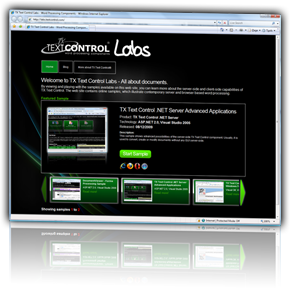 We have just launched a website that will be the new home for our TX Text Control online samples. By viewing and playing with the samples available on this web site, you can learn more about the server-side and client-side capabilities of TX Text Control.
We started with 3 new samples that can be started directly from labs.textcontrol.com.
We are going to publish sample projects to this website continually. They can be based on current TX Text Control versions or they show features, which will be available in future versions and developments of TX Text Control. It is a platform to show what's possible in today's word processing applications.
Feel free to post comments or requests for new samples.
Visit TX Text Control Labs here: