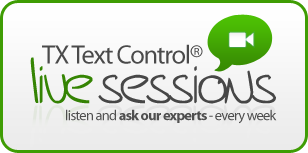 I thought to share our latest ideas and plans for future customer services with you. The next big thing are our live sessions.
We plan online meetings once a week to give you an overview of TX Text Control, show you technical basics, advanced samples or case studies.
In the last few weeks, we tested the technical requirements to provide that service. The sessions are planned for up to 20 attendees to keep the group of listeners quite small in order to be able to go into details and to answer questions from all attendees.
Technically, you can see the screen of the speaker including a whiteboard, a PowerPoint presentation, his opened Visual Studio or a video. If you have a headset, you can ask questions during the session or you can call a conference call number we will provide.
Currently, we are preparing the first sessions to start soon. In the meanwhile, I am very interested in learning more about your opinion and what kind of sessions you would like to see. For this purpose, we created a quick survey which doesn't take you more than 2 minutes. Please click on the following link to complete the survey:
Thanks for your help. Feel free to send me your comments on this idea.