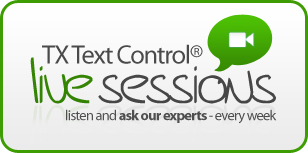 Today, we scheduled the first TX Text Control live session for next Wednesday, 19th August 2009. This will be an overview session hosted by my colleague Ian Blackley from the TX Text Control USA office in Charlotte. I will attend as well to assist by answered very specific questions from you.
As I already wrote, only 20 attendees are allowed per session. Based on the feedback from you, we will create more than 1 session a week.
So, don't wait and register today for this free session! Type in your e-mail address in the right box. Invitations are only sent to the first 20 registrants.
My colleague and I look forward to "hearing" you in the session. Feel free to ask questions about this sessions by leaving a comment.