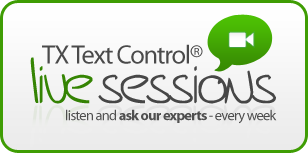 After the very successful technical webinar last Wednesday, I would like to give others the possibility to attend this session. The topic was obviously very popular, as we had more registrants attempt to sign up than we had open seats.
As such, I will do the same session again next Wednesday:
September 16, 2009, 12 pm (Eastern time, US and Canada)
6 pm (Amsterdam, Berlin, Bern, Rome, Stockholm, Vienna)
10:30 pm (Chennai, Kolkata, Mumbai, New Delhi)
This session will be a pure technical session with live coding parts. It shows how to integrate a browser-based WYSIWYG interface into your ASP.NET web application to edit documents directly in a browser.
In this webinar, you will learn the differences between ServerTextControl and BrowserTextControl and how they are used in combination in ASP.NET. Questions are encouraged during the session, so please don't hesitate to ask them should you like clarification on any item in the presentation.
Hurry up and register for this session - we have only 20 seats.