As an exhibitor at the largest .NET conference in Europe, we have a number of entry tickets we would like to pass on to you, our customers.
These free entry tickets enable you to visit the EXPO area, selected sessions and the keynotes on 2 days:
September 22, 2009
September 23, 2009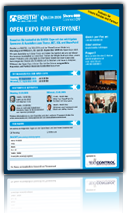 We are very happy to welcome you at our booth to talk about TX Text Control and future developments. Just complete the following PDF form and return it to the conference management. Your free entry tickets will be left at the check-in counter of the conference.
If you need any help completing the form (it is in German as it is a German conference), feel free to contact us - we will help you.
Register for BASTA! 2009 [PDF]