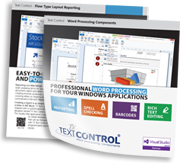 Our development team is working on new versions of TX Text Control and new products to complete our product family with barcode support and extended reporting features. These products will be presented soon at DevIntersection in Las Vegas.
Make sure that your Subscriptions are valid and not expired to get hands-on these new releases immediately after they have been released.
Our marketing is working on new materials for upcoming shows such as DevIntersection and Microsoft TechEd North America that reflect our updated product line.
I thought to share our recently finished new executive product overview:




You can download the brochure here.