Reporting and Mail Merge have become wide-sweeping terms for automated document, report and label creation. Creating invoices, proposals, generated covering letters or shipping labels can be summarized in the term Reporting.
Instead of utilizing complex reporting tools and designers to create such documents, TX Text Control offers an easy-to-use and powerful package to create reports: Flow Type Layout Reporting.
Creating a Report is As Simple As Writing a Letter in MS Word

TX Text Control is shipped with a customizable template designer named TX Text Control Words. This royalty-free application is designed to create templates that can be merged with TX Text Control's programmable reporting classes.
Database connections to all types of databases can be opened to insert available merge fields into a template. A merge field is a placeholder that is merged with content from various data sources. The formatting of merge fields is preserved when merged with real content.
The supported merge fields are compatible to MS Word. Therefore, existing MS Word documents can be used as templates for reporting processes. Templates can be modified within TX Text Control as well as MS Word.
Reporting Features: Master-detail Relationships, Charting and Barcodes
Templates contain static content such as headers and footers, fixed text or images and dynamic text represented as merge fields. Additionally, blocks of content can be repeated based on specific sets of data rows. Such repeating blocks can be nested to represent Master-detail (1:n) relationship views.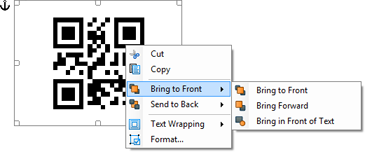 A template can be designed just like a usual document in MS Word with typical elements such as headers and footers, tables, images, different page orientation settings or paragraph stylesheets.
1D and 2D barcodes* as well as 2D and 3D charting makes the reporting solution complete. TX Text Control can be easily used to create invoices, sales sheets, delivery notes or sales reports.
Quick Facts to Differentiate TX Text Control Reporting from Crystal Reports
Each reporting engine has it's advantages over others. The following table lists the advantages of TX Text Control Reporting over Crystal Reports:
Feature
TX Text Control
Crystal Reports
WYSIWYG editor
✔
✖
Output to DOCX and PDF/A
✔
✖
Stylesheets
✔ (Fully supported)
✔ (only CSS)
Reusable output (RTF, DOC, DOCX)
✔
✖
Templates compatible to MS Word
✔
✖
Easy to use editor
(MS Word skills required, not developer skills)
✔
✖
All databases supported
✔
✖
Easy change of data sources
✔
✖
* Barcodes will be available soon.