Are you tired of explaining complex report designers to your end-users? Are you looking for an easy-to-use way of creating powerful reports?
TX Text Control provides the solution: WYSIWYG Flow Type Layout Reporting. Creating a report is as simple as writing a letter in MS Word.
With the TX Text Control Words™ Template Designer, that comes with full Visual Studio sources, your users can create templates with typical word processing features such as tables, images and headers and footers. In contrast to complex report designers, users can use their MS Word skills to create beautiful reports - no steep learning curve.
WYSIWYG Template Design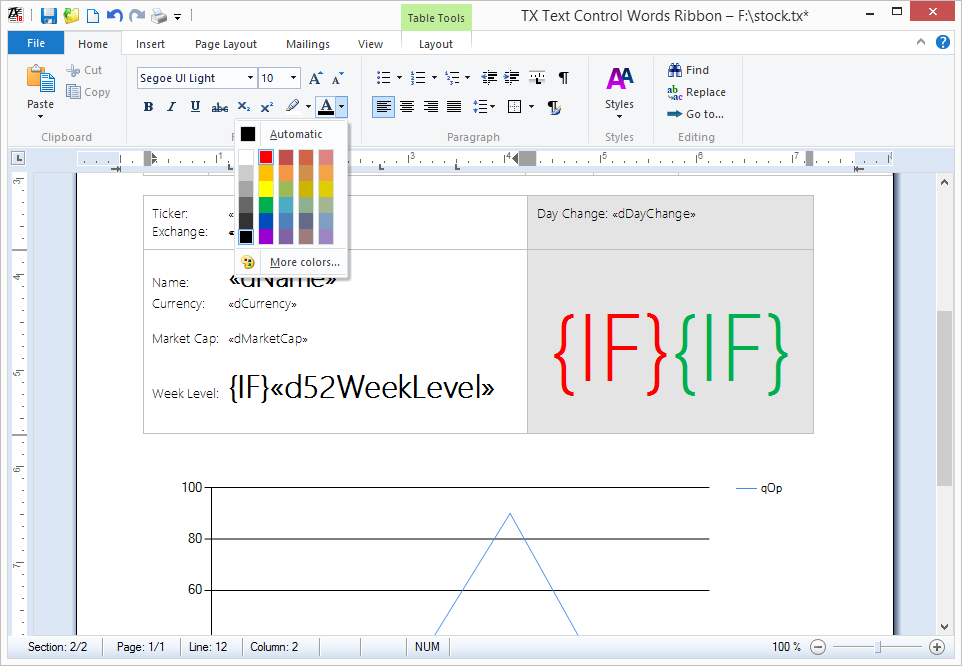 When creating a new template, you can choose from typical word processing features such a headers and footers, column-layout, tables, paragraph styles or page borders. Like in MS Word, you can see how the report will look like when designing the template. You can even import existing MS Word documents from various formats such as DOC, DOCX, RTF or PDF. Your users will see the final report while designing it.
The TX Text Control Words Template Designer comes with full sources as a Visual Studio project and can be completely customized or integrated into your own application.
Powerful Data Connection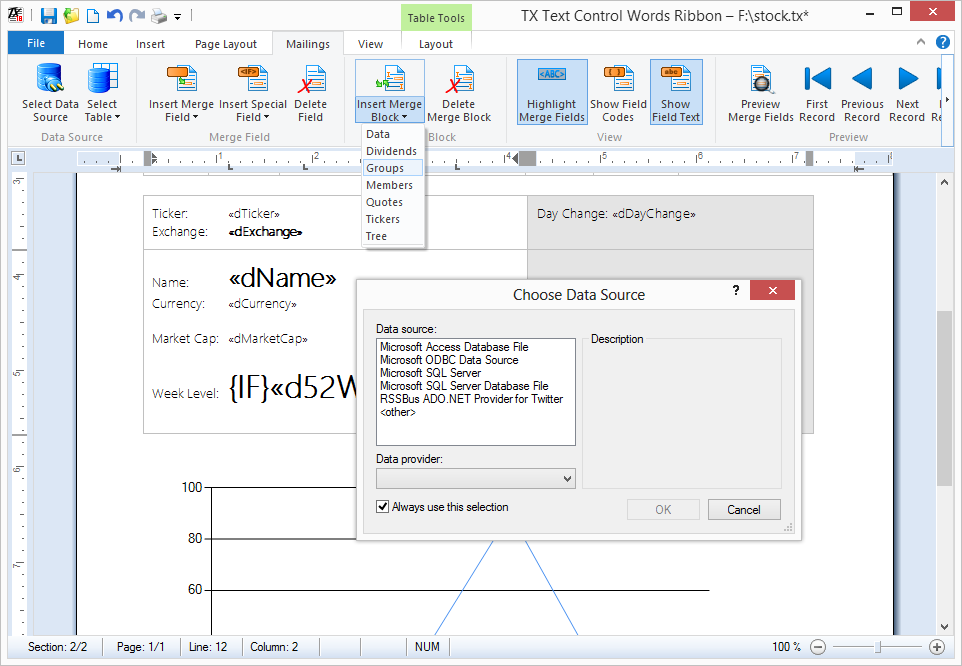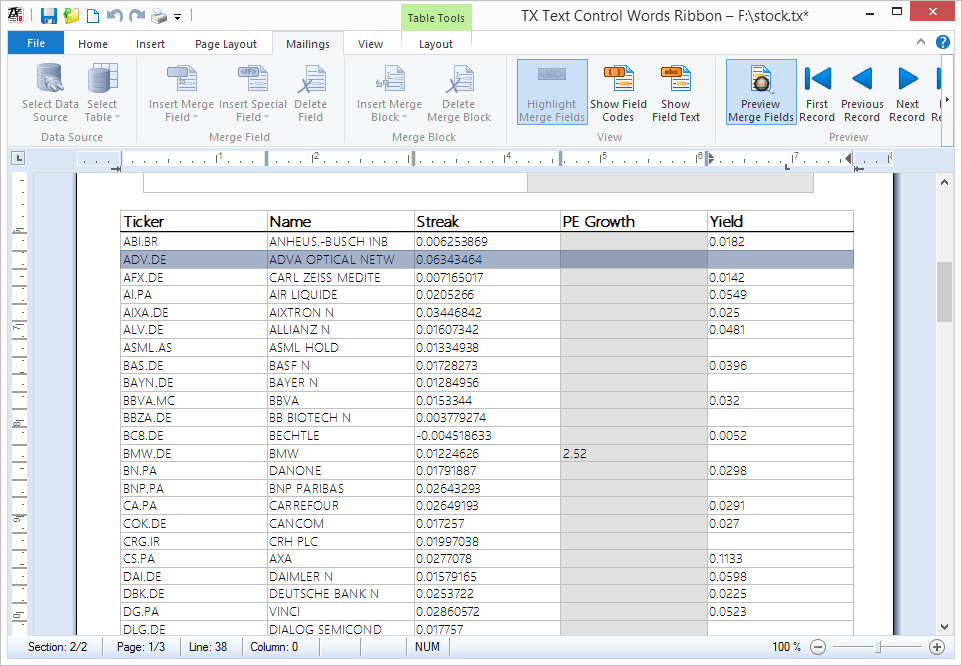 Creating powerful hierarchical reports is the strength of TX Text Control. Nested repeating blocks with master-detail relationship views can be easily inserted. It doesn't matter what's repeated in the block: A table row, paragraphs, images or text frames. There are no limits.
TX Text Control Words implements an out-of-the-box data connection wizard to connect to all types of databases including MS SQL, Access, ADO.NET or ODBC. You can easily insert merge blocks from the recognized database tables.
A preview mode allows you to step through the database records to see your template in action.
Add 2D and 3D Charting to Your Reports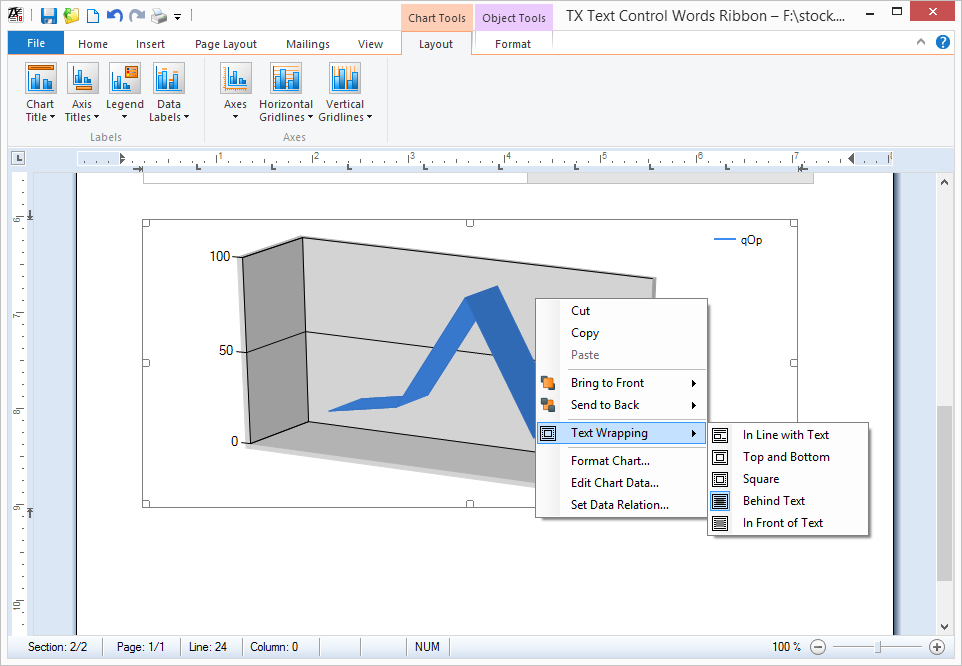 Powerful data visualizations in a report or any other document are essential to get the "big picture". Charts indicate trends and can be used to attractively visualize large volumes of data.
Bars, donuts, pies or financial series - more than 30 fully programmable diagram types can be added. This concept allows you to create true WYSIWYG templates for your reports. The size and style of charts are added at design-time and merged dynamically.
Export to PDF, MS Word or Print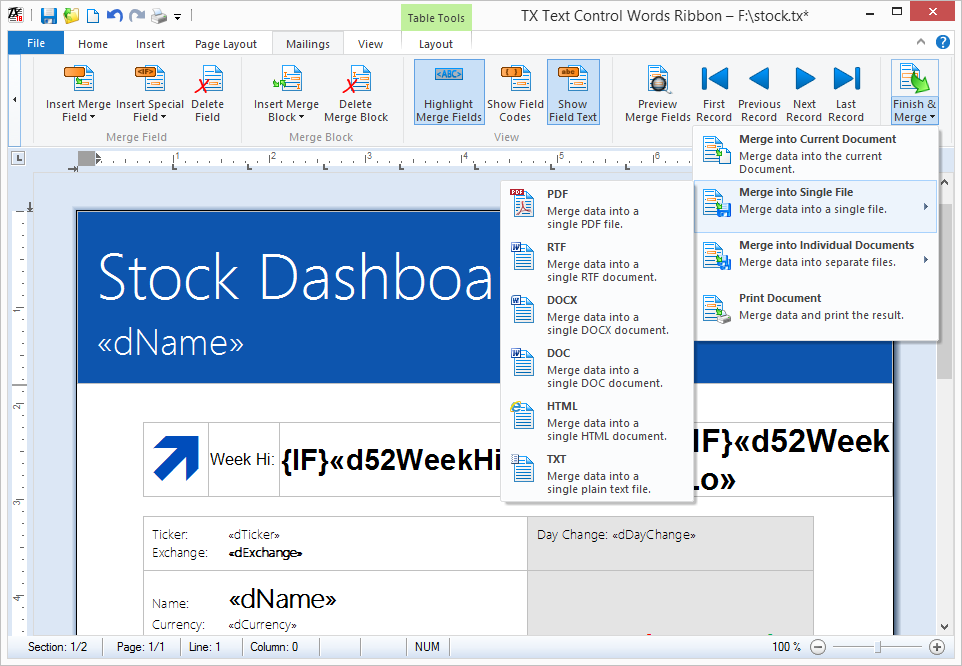 TX Text Control supports the most important industry standard formats such as DOC, DOCX, RTF, HTML, PDF and PDF/A. You can digitally sign and encrypt Adobe PDF and PDF/A documents or print them directly from your application.
How to Get Started?
Download a 30-day fully featured trial version of TX Text Control .NET for Windows Forms or WPF, start the pre-compiled TX Text Control Words™ Template Designer and create your first reports.