Our conference team is manning the Text Control booth for the DevIntersection conference at the MGM Grand Las Vegas in 2 weeks. This show will be one of the most important conferences in the Microsoft development industry in 2013.
Attendees can learn from top-notch speakers such as Jason Zander, John Papa, Tim Huckaby, Billy Hollis, Scott Hanselman, Carl Franklin, Michele Leroux Bustamante and Richard Campbell.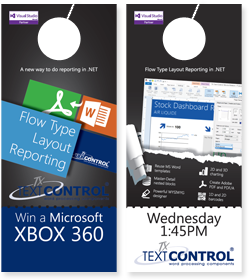 On the expo floor, you can meet with industry leading companies and their product managers to learn more about their latest products and services. Stop by our booth and try out TX Text Control X9 with all new features and full barcode support.
On our demo counters, we are presenting our flow type layout reporting technologies. Learn more about the powerful and flexible way to create reports, invoices and labels with charting and barcode support using TX Text Control. Get hands-on the MS Word-like designer that can be fully customized and freely deployed to your end-users.
Stop by booth #101 and ask our team for a demo or test it on your own.
As soon as you receive your attendee bag, find the Text Control door hanger, tear off the rip card and bring it to booth #101 to enter the XBOX 360 raffle.
See you in Las Vegas!