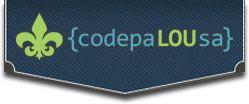 2 days - 10 tracks - 62 sessions
This is what it reads on their website about the codepaLOUsa in Louisville, KY. This annual event will be held March 15-17, 2012 at the Louisville Marriott Downtown. They have a fantastic speaker line up including Billy Hollis and Chris "Woody" Woodruff.
If you are attending this great conference, stop by our booth and learn more about our great new features and products.
More about codepaLOUsa 2012 can be found on their beautiful website at: