The integration of a digital document processing solution with electronic signature processes help companies to serve their customers and support business continuity. To showcase typical workflows and the Text Control electronic signature technology, we published a best practice, fully functional demo that can be used to create and request signatures, sign documents and to validate executed PDF documents.
Open the live demo in case you want to test this new functionality right away.
Workflow Requirements
Today, we published a new feature that allows the request of signatures from multiple signers. The workflow for this scenario implies some specific requirements including:
Adding separate, individual signature boxes.
Adding individual form fields that can be completed exclusively by the specified signer.
Combining all signatures and form field values in a resulting document.
Prepare the Document
When preparing a new document for a signing process, it is now possible to select unlimited, multiple signers: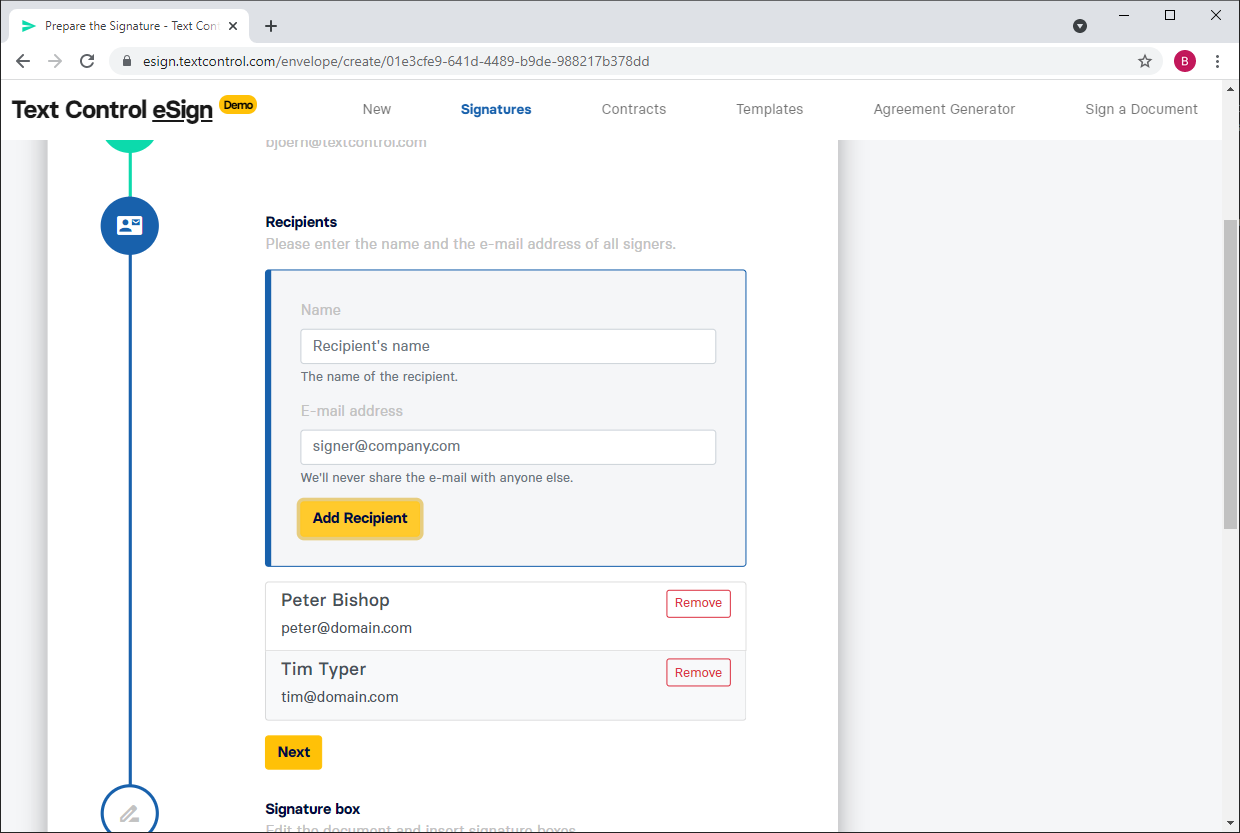 When done with selecting the recipients, the wizard is asking you to add the required signature boxes for all selected signers: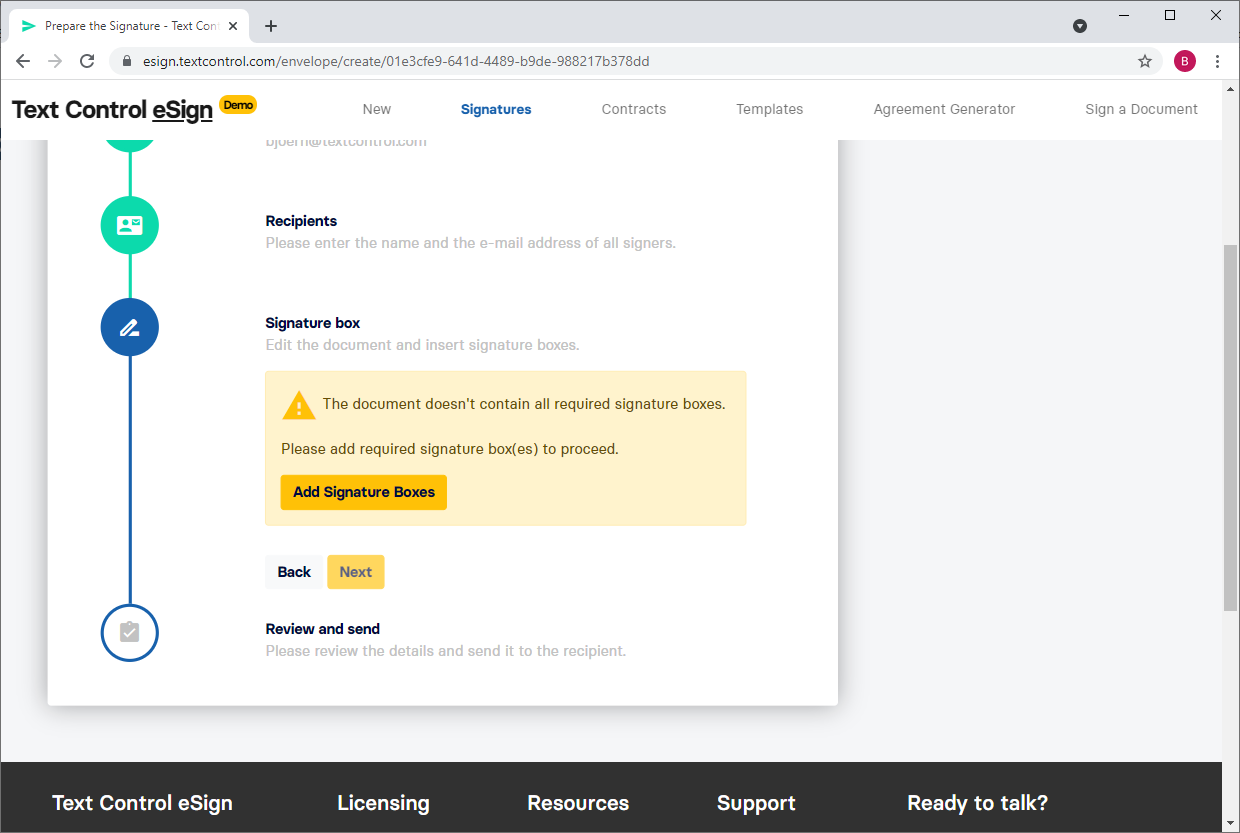 When clicking on Add Signature Boxes, the editor is opened and shows some new features in the left-hand sidebar: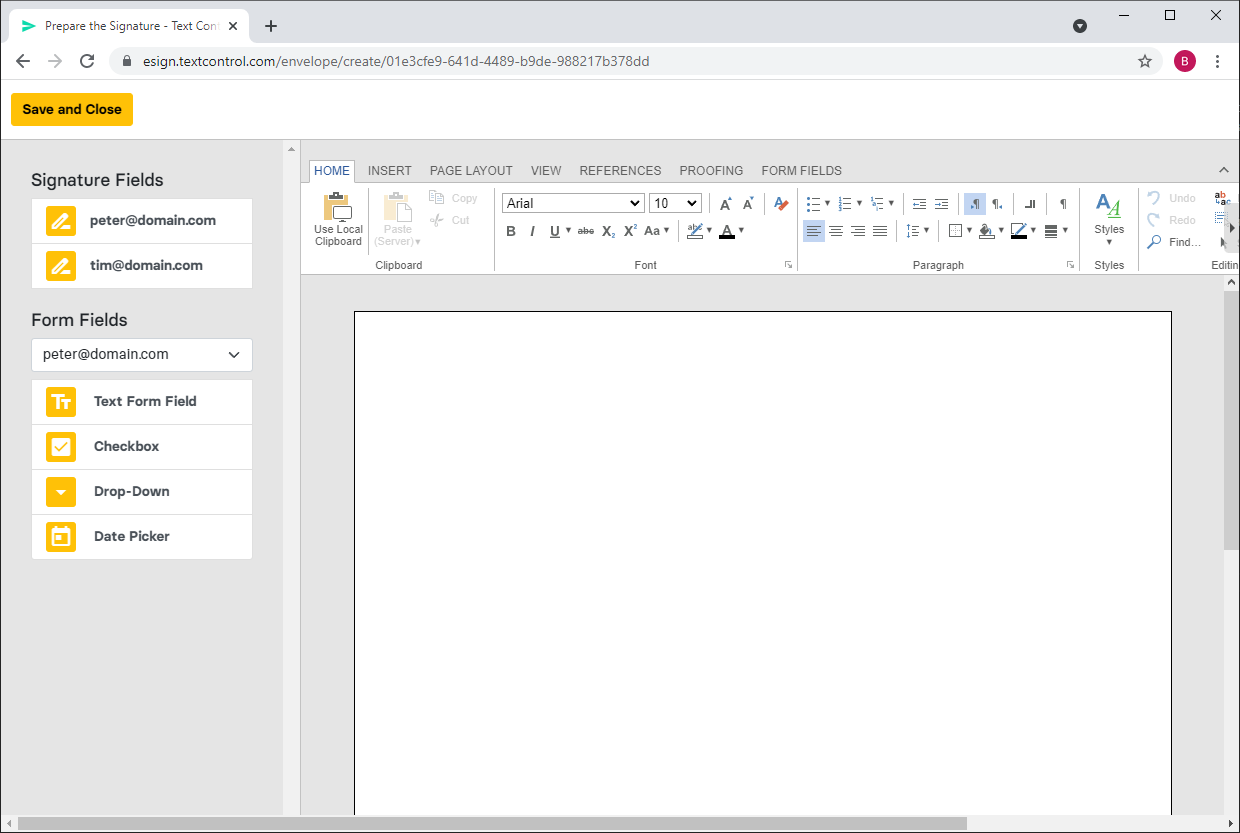 Adding Signature Boxes
All required signature fields are listed to show which fields must be added to complete the preparation process. If a field exists, the field buttons are highlighted in green: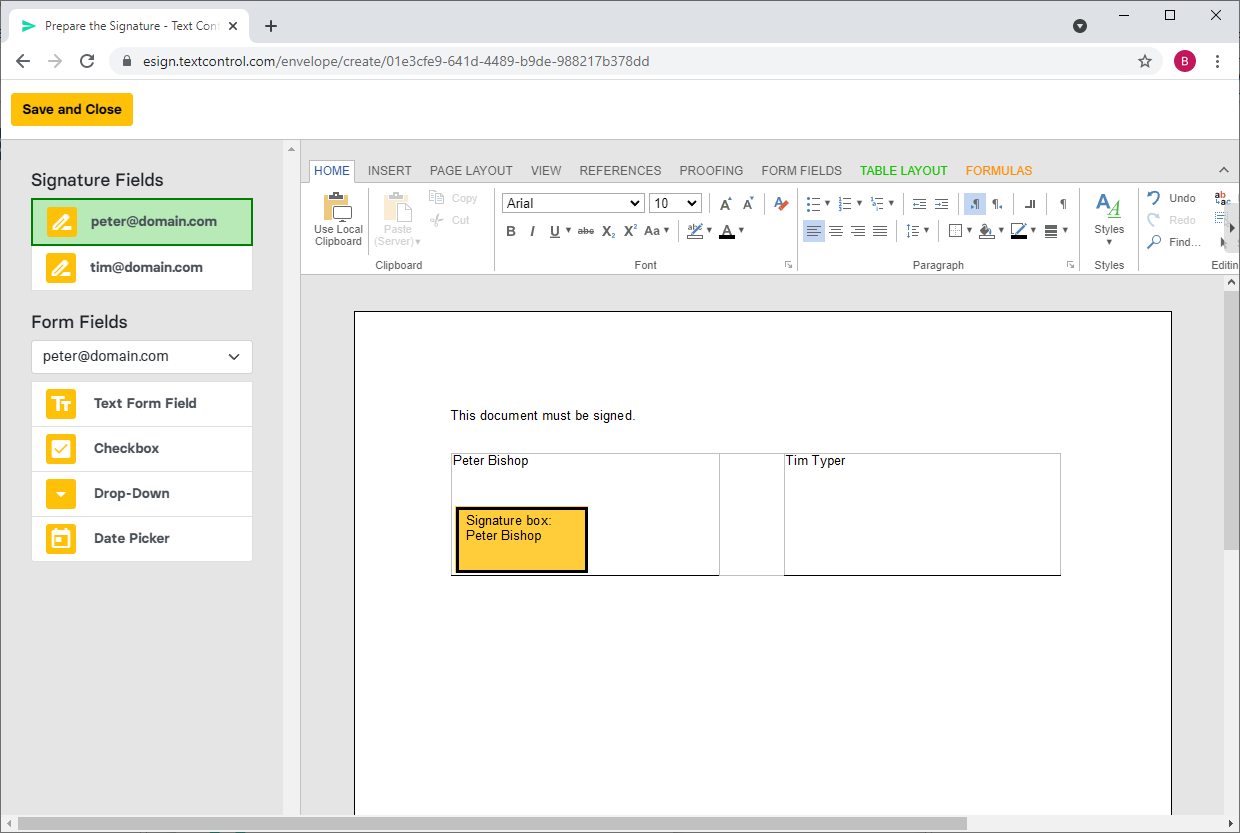 Adding Form Fields
Additionally, it is possible to insert form fields for a specific signer, so that only those form fields are displayed when the signature is requested. Therefore, select the user from the drop-down box and insert any form field: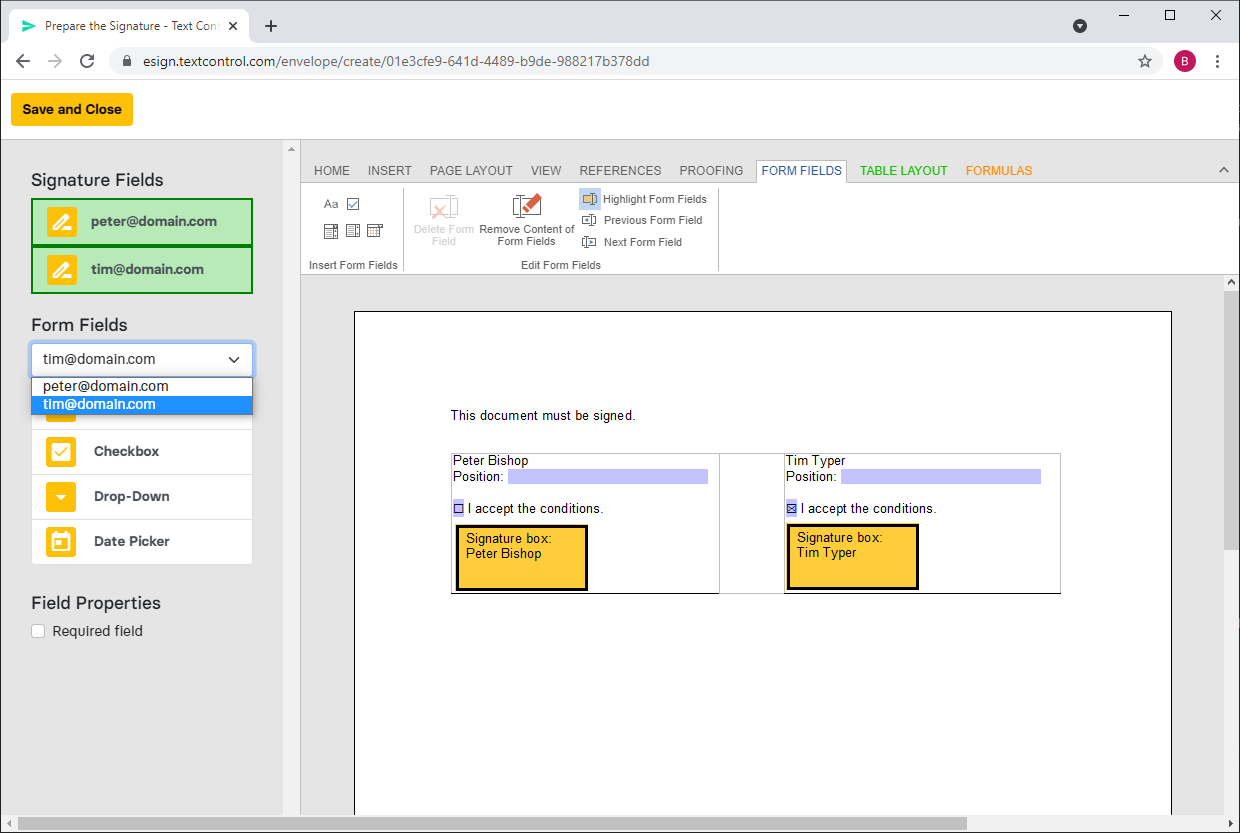 The final step allows you to review the document and e-mail addresses before the document is deployed to all recipients: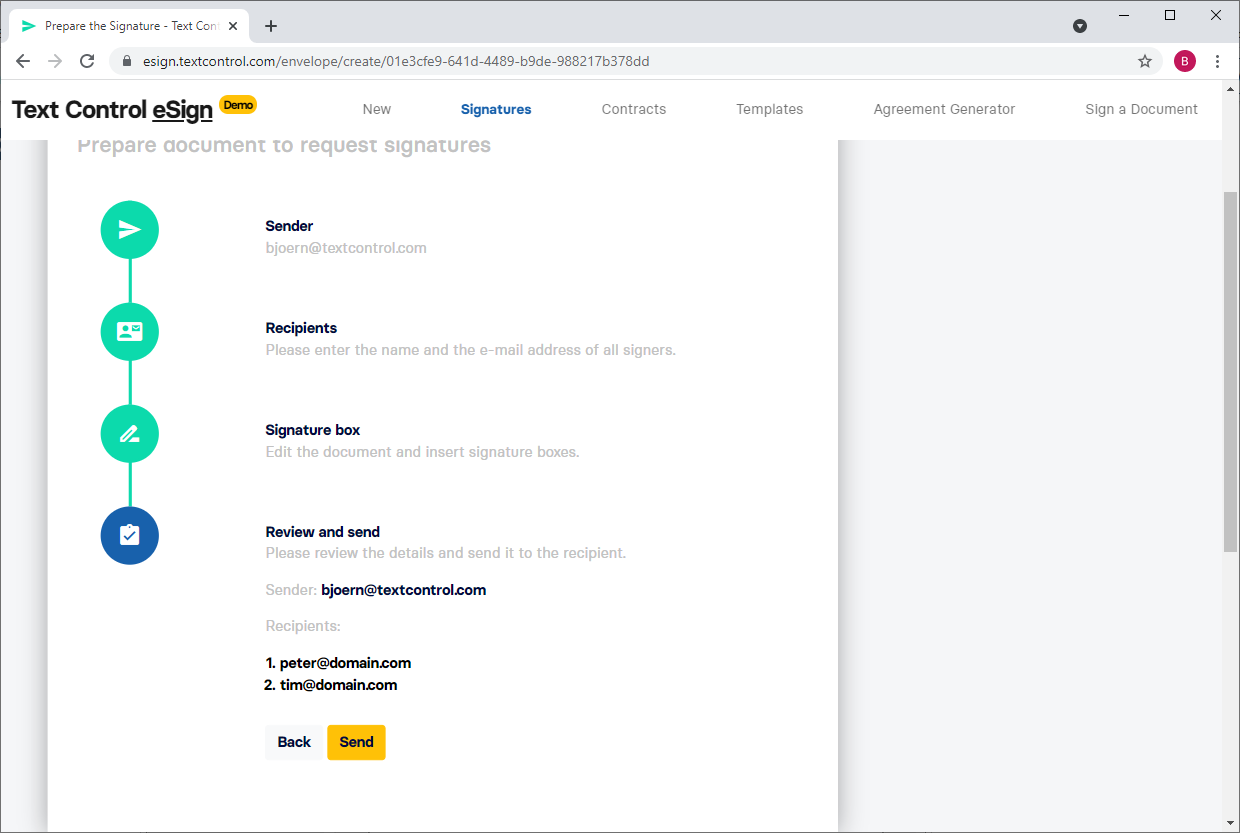 After the document has been sent, the summary gives an overview of the document and the current status of each signer.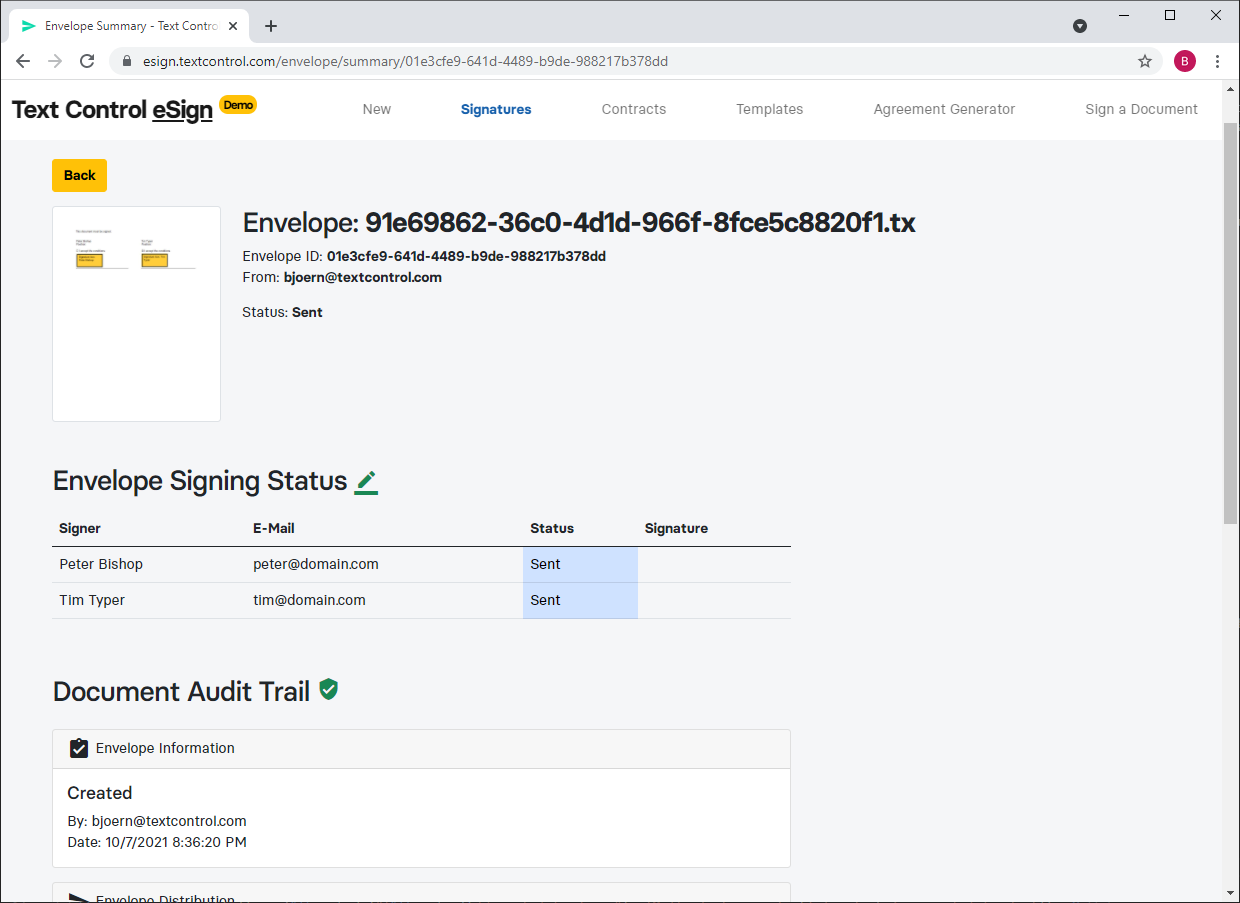 Both recipients received an e-mail that requests the signature. The following screenshot shows the DocumentViewer when opened for user Peter Bishop: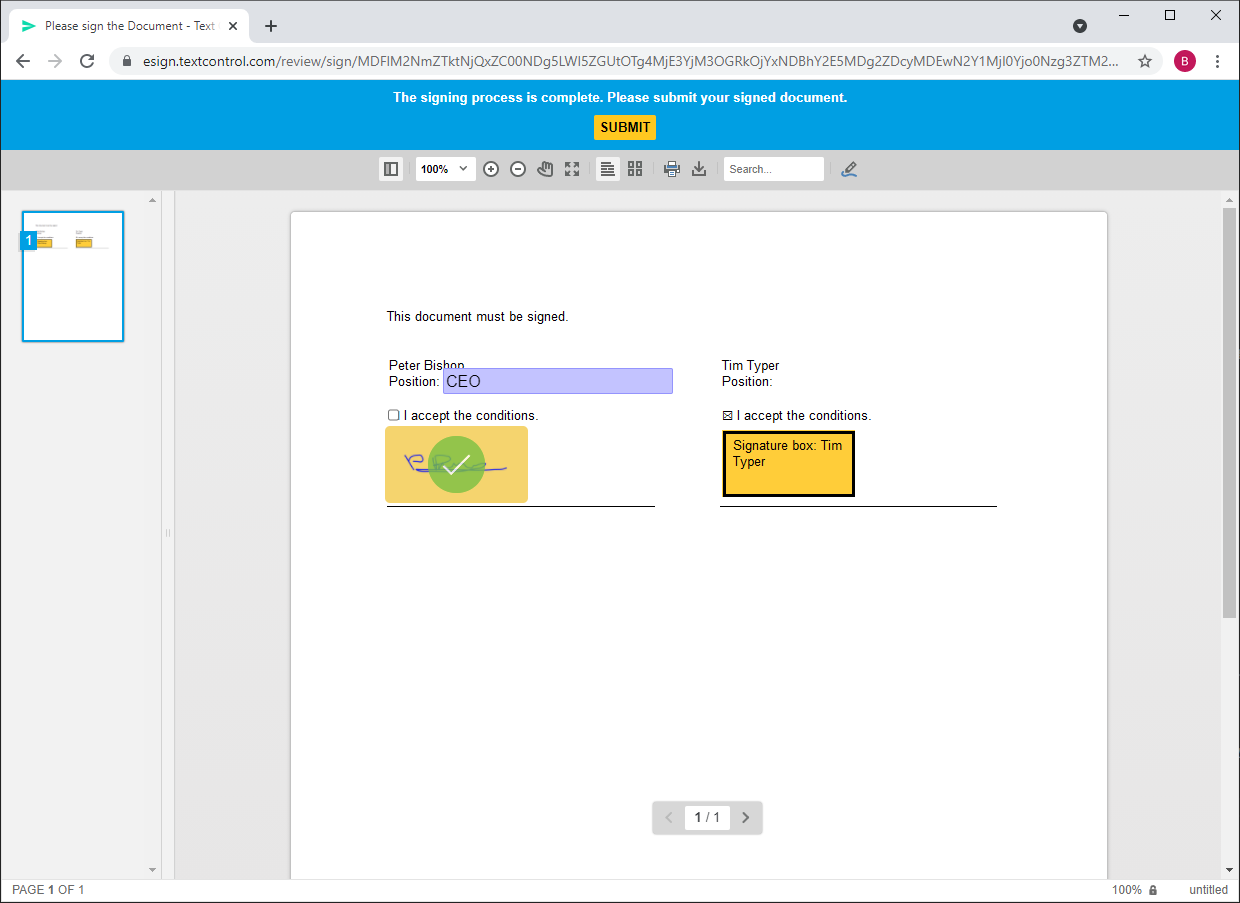 As you can see, only the signature box and the form fields for this specific user are active and can be completed. After the document has been signed by this user, the status is shown in the document overview: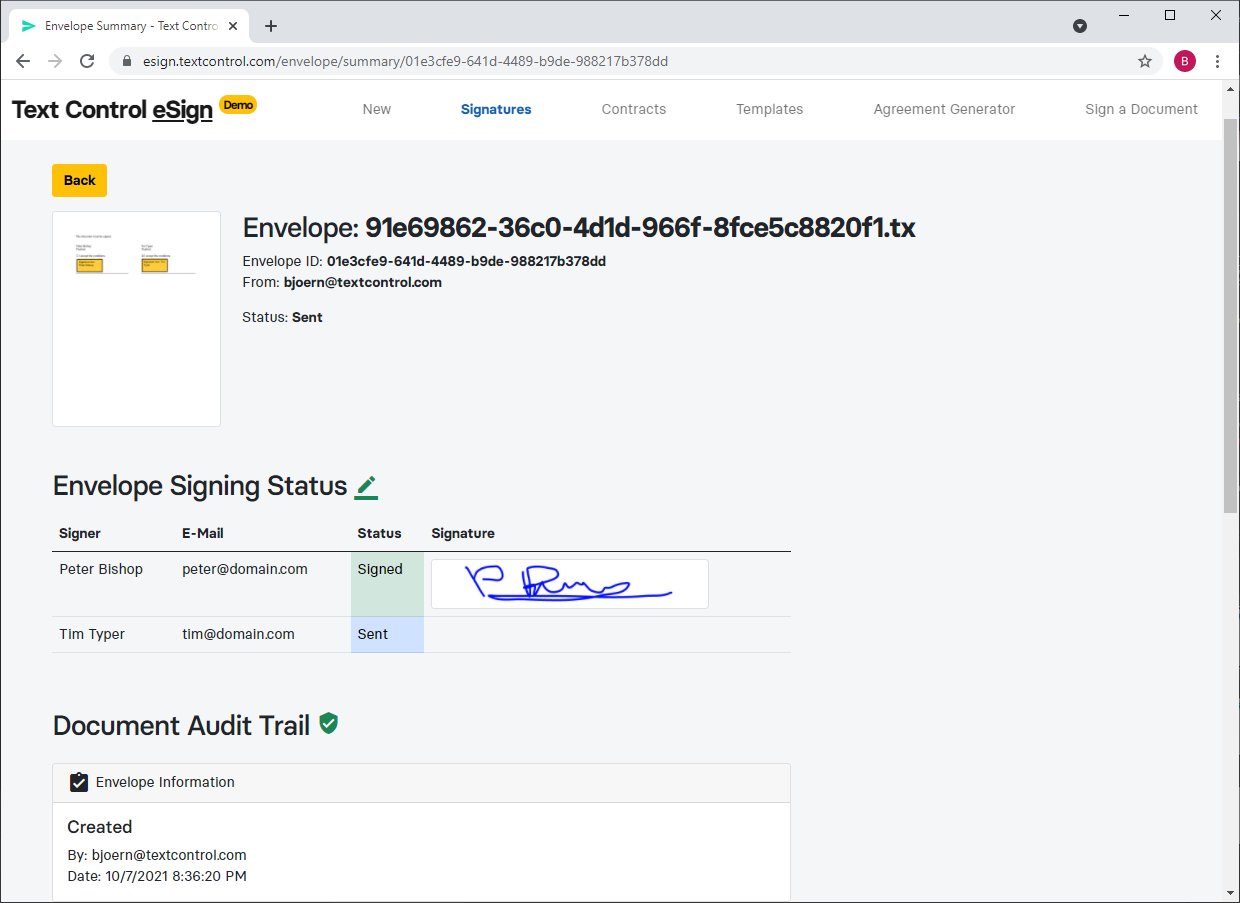 After both parties signed the document, the combined, resulting PDF is created and has been sent to all signers: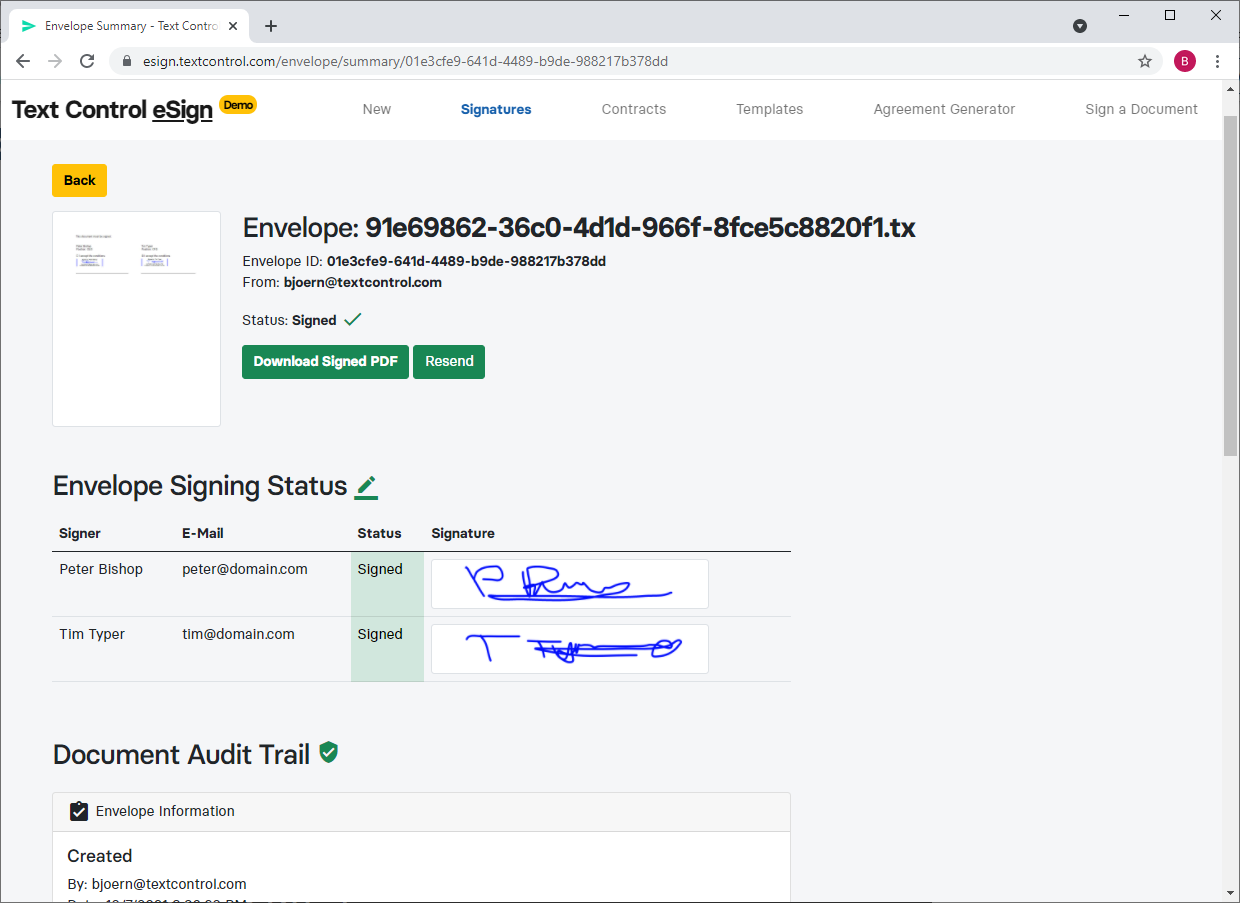 Resulting Adobe PDF
When looking at the PDF, we can see that both signatures are visible and the content of the form fields are merged into the document: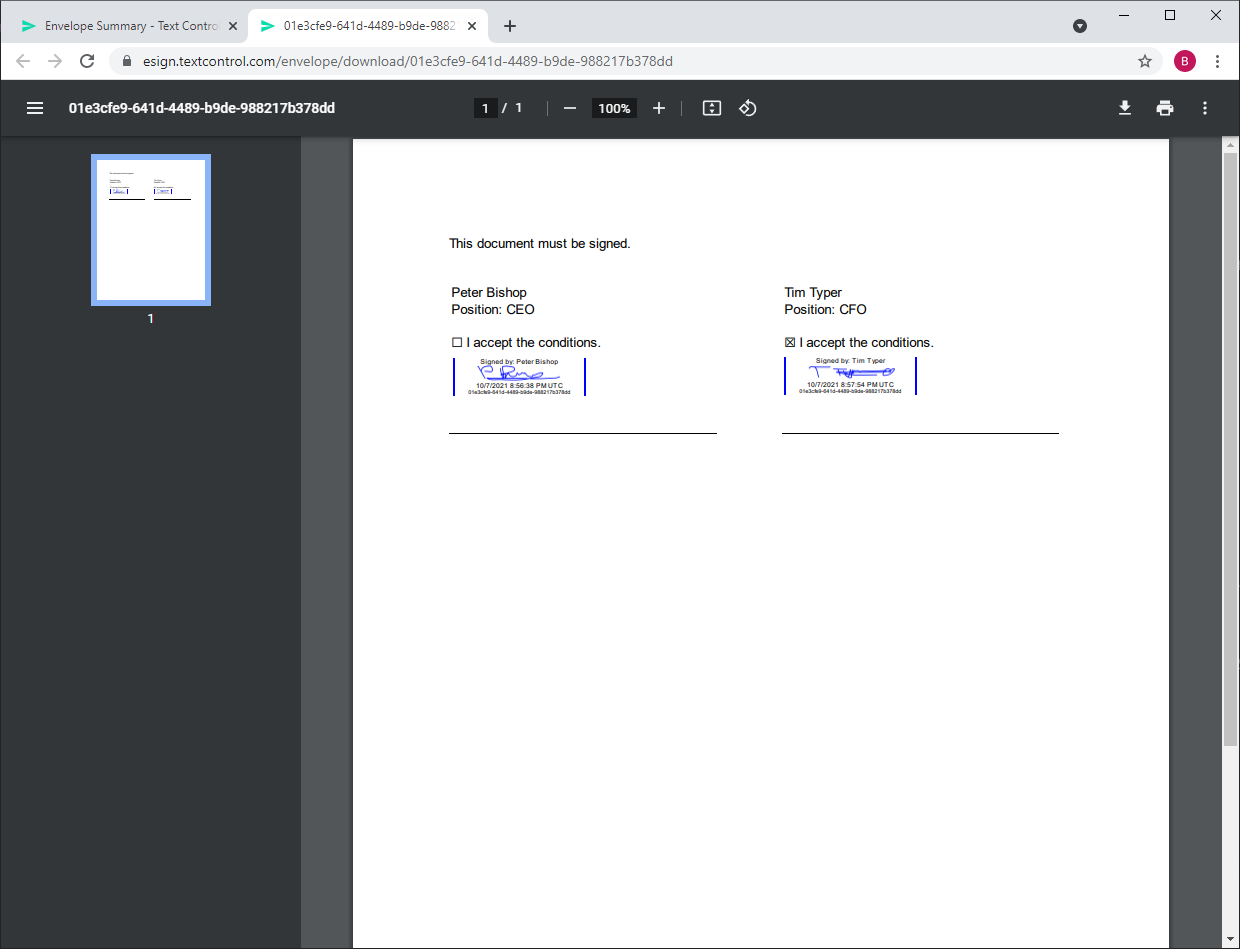 When validating the document and in the document overview, you can see a list of all signers with the timestamps and IP addresses: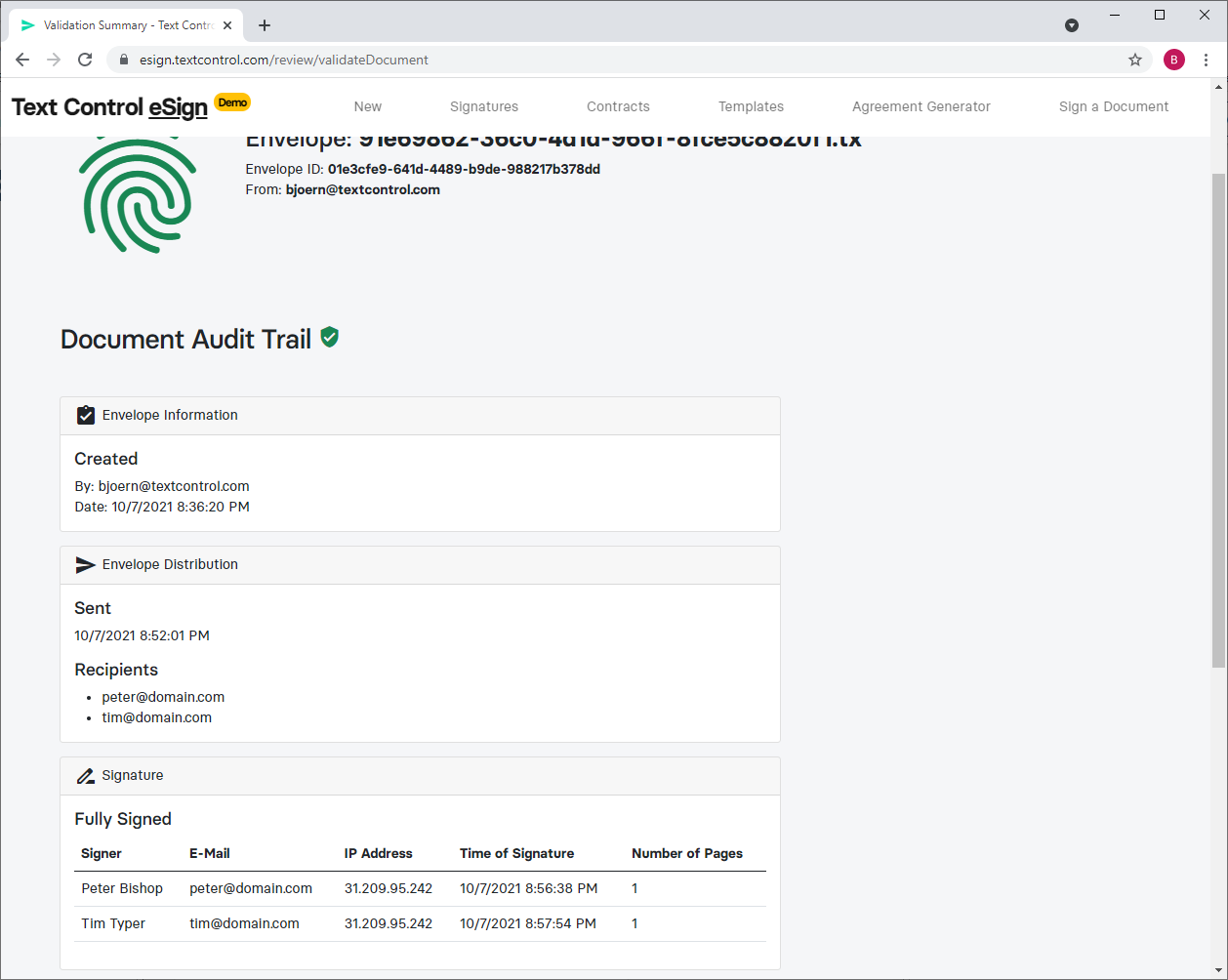 Integration Support
Let us know, if you want to integrate this or similar document signature processes into your own applications and workflows. We can help with your prototype and the integration process.
Live Demo
You can test this workflow on your own by visiting the live demo: