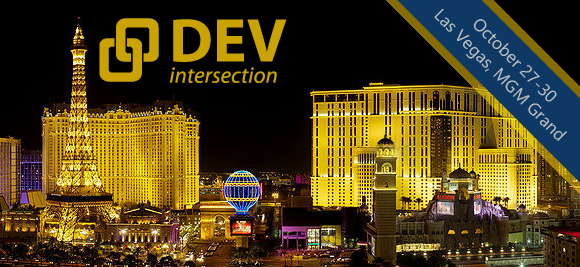 Exclusively at DevIntersection, we will present TX Text Control X10, TX Spell 4.0 and TX Barcode 3.0 including the new Reporting functionality.
Visit our booth at the expo area of this fantastic conference and learn more about our latest product versions. We will have hands-on demo counters where you can test the easiness to use of our reporting products. Create your own template and see the mail merge integration in Visual Studio in action.
The DevIntersection conference brings together Visual Studio, ASP.NET, Open Web, Mobile and Cloud developers to the MGM Grand in Las Vegas October 27-30, 2013.
We are very proud to be a sponsor of this great conference again. If you register for the show package, you will receive a Surface RT or an XBOX ONE. And we are giving you an extra 50 dollar bill - use the discount code TEXT when registering for the conference.
See you in Vegas!