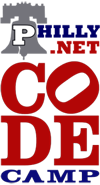 Lots of code, just say no to slides!
That is the great motto of Philly Code Camp. More than 50 sessions are scheduled in 10 parallel tracks. The team is awaiting 600+ attendees coming to Penn State in Abington, PA.
We always look forward to the Philly Code Camps. They are well organized and packed with good speakers, interested attendees, outstanding volunteers and sponsors.
Philly Code Camp 2012.2 is scheduled for Nov 17, 2012. We look forward talking to you at our table. Stop by and say hello.
See you in Philly!