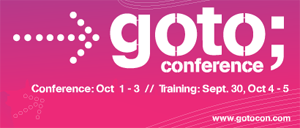 We are currently exhibiting at GOTO Conference in Aarhus, Denmark. It is an interesting melting pot of technologies and platforms: Microsoft .NET, Java, PHP or Perl. Bringing all these different developers together results in fruitful discussions and perspectives.
On the first day, we enjoyed discussions at our booth about the future of document creation processes, creating documents in the cloud using our Web Service LiveDocx and our latest development plans like our upcoming barcode component TX Barcode .NET.
Find below some impressions of GOTO 2012:
We are looking forward to another 2 days in Aarhus. If you are there, stop by our booth and say hello.