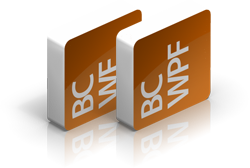 Delivering best-of-breed software developer components in the field of word processing is our daily endeavor.
Our core business is engineering of controls and components that help to integrate rich text editing, document processing and related tasks into your applications.
New products are developed based on user request and our experience and research.
Today, we are very proud to announce a new product that will be introduced at several conferences over the next weeks: TX Barcode .NET.
TX Barcode .NET enables developers to integrate barcodes into .NET-based applications. In today's processes, barcodes are included everywhere: Invoices, delivery notes or admission tickets. Barcodes are used to store digital data on paper that can be acquired easily for further processing using laser-based scanners, cameras or mobile phones.
TX Barcode .NET creates barcodes efficiently and accurately and can be completely integrated into TX Text Control .NET, the leading word processing component for .NET.
Try it yourself and test just a few of the supported barcode types:
Demo no longer available.
The unique advantage of the .NET barcode control is the deep integration into TX Text Control .NET. You can create WYSIWYG templates with pre-defined barcodes at fixed positions in order to merge them with actual data during the mail merge process.
We have many more ideas how to include barcodes into document processes such as storing text field information for easy form data acquisition. We will deliver the technology for these ideas - you can focus on your core business.
Keep an eye on this blog or visit us at upcoming conferences such as Silicon Valley Code Camp or DevConnections in Las Vegas.