Right on time for TechEd North America next week, we have released the long awaited TX Text Control 18.0 Community Technology Preview (CTP) demo application.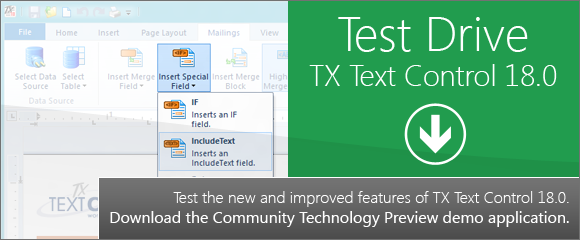 This Windows Forms ClickOnce application shows the new and improved features of TX Text Control 18.0. It is based on the new TX Text Control Words demo that will be shipped with TX Text Control 18.0 including full sources.
A 64bit version of Windows Vista, Windows 7 or Windows 8 Release Preview is required to view this demo. If you are facing any issues, please visit http://labs.textcontrol.com/ctp18/ and start it from there.
Highlighted Features of TX Text Control 18.0
Aside from a new style of TX Text Control Words, this demo covers many new features that will be supported in version 18.0.
Stunning Adobe PDF import improvements
Thanks to powerful new features in the TX Text Control core, the PDF import filter now converts even complex pages into editable documents that can be easily modified and converted.

Z-order for images, text frames and other objects
All of these objects can be either in front or behind the text and the z-order among these objects can be changed. Objects can overlap each other and this order will be maintained after saving and loading the document.

Mail merge capabilities with preview
We joined our main sample application TX Text Control Words and the TX Template Designer to one designer with a nice and easy-to-use Ribbon interface. This new designer has all the features of TX Text Control plus the charting and mail merge functionality and a complete new style and icon design. It shows how to create powerful templates easily with a powerful database connection dialog and a preview functionality.

Powerful 2D and 3D charting support
TX Text Control for Windows Forms now supports the insertion of chart controls of the type System.Windows.Forms.DataVisualization.Charting.Chart.
The above mentioned features are just some of the new capabilities. Feel free to test this demo and to send us your feedback. We created a new forum for the CTP demo application at:
TX Text Control 18.0 CTP Forum
You are welcome to post your feedback, bug reports, requests or simply comments on this preview.
Test drive TX Text Control 18.0!