Aside from stunning new features and improvements, we will give some elements a complete makeover. The status bar got a new BorderStyle: VerticalColorScheme.
++ NEW RELEASE PREVIEW ++ NEW RELEASE PREVIEW ++ NEW
TX Text Control X8 (18.0) is not released yet. Make sure that you have a valid subscription to get hands on this new version immediately when it is released. Login to your store account to verify your subscription status and update today: account.textcontrol.com
New StatusBar
This color scheme is based on the Office 2010 style and can be fully customized. The screenshot below shows the new status bar with the new default style settings:

As you can see, we added a zoom slider to the status bar that can be used to adjust the current page zoom. Needless to say that this slider also reflects the current zoom factor, if it was adjusted programmatically or using the mouse scroll wheel.
All colors can be easily changed at design-time or during run-time programmatically. The following screenshot shows the appropriate settings in the Properties window of the StatusBar object.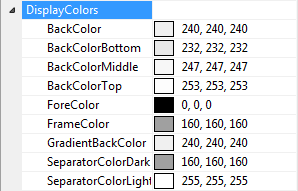 Using these settings, virtually all color combinations are imaginable:

The RulerBar
Not only the status bar got a makeover - we improved the ruler bar as well.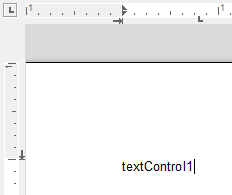 To make the editable area of the document more obvious, the page margin is colored in the ruler area. Of course, all colors are customizable as well.
Image and Object Handling
We changed the style of the handles to resize objects. Now, the handles have round corners and the object corner handles can be used to resize objects while the aspect ratio is maintained.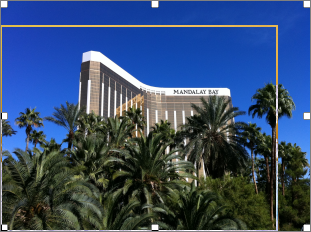 Background Images and Z-order
Overall, the new object and image handling gives you more freedom of positioning them in the document. The objects can overlap each other, they can be displayed in front or behind the text or text frames can be rendered on top of images. The following screenshot shows a background image that is positioned behind the text.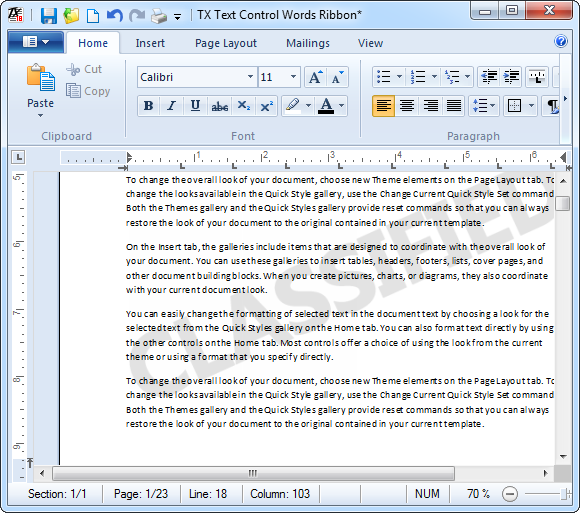 Stay tuned! TX Text Control X8 is coming soon.
++ NEW RELEASE PREVIEW ++ NEW RELEASE PREVIEW ++ NEW RELEASE PREVIEW ++
TX Text Control X8 (18.0) is not released yet. Make sure that you have a valid subscription to get hands on this new version immediately when it is released. Login to your store account to verify your subscription status and update today: account.textcontrol.com