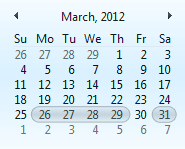 In March 2012, we are going to exhibit at two fantastic conferences in one week: DevConnections in Las Vegas and the Orlando .NET Code Camp.
From Monday 26th to Thursday 29th, we will be staffing the Text Control booth in the exhibition halls of the MGM Grand hotel in Las Vegas. Twice per year, DevConnections shows the latest trends to get the most up to date information and training.
Meet top-speakers such as Scott Guthrie, Steve Fox or Carl Franklin and learn from them. This year, the Microsoft SQL Server 2012 launch is co-hosted by DevConnections - so expect a lot of buzz.
On Friday, we are flying to Orlando to support the local Orlando .NET User Group. They are organizing the Orlando .NET Code Camp at the Seminole State College.
We are very proud to be a Diamond sponsor of this great community event. The event will have speakers from the local community and beyond at a very nice venue. Hurry up and register for this free event soon - it is getting sold out fast.

See you in Vegas and/or Orlando!