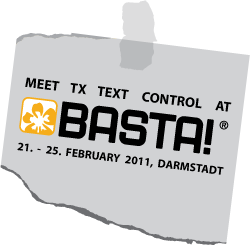 The spring conference season is starting to gear up. We always look forward to the BASTA! conferences in Germany. It is one of the largest .NET conferences in Europe and we are always happy to see so many TX Text Control users at our booth.
This year, we have doubled the booth space and teamed up with GrapeCity PowerTools to present the Document Automation Alliance. What else can you expect to see from TX Text Control?
We are proud to present the WPF version of TX Text Control .NET and the recently released spell checking component TX Text Control RapidSpell .NET for Windows Forms. Just stop by our booth and test these products for yourself. As always, we will have 2 demo PCs available for hands-on testing.
It is nearly a tradition that the TX Text Control team is raffling an XBOX 360 250GB. So make sure that you get your raffle ticket at our booth.

BASTA! Spring 2011
Darmstadt, Germany
February 21-25, 2011