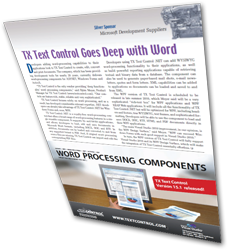 Every year, the makers of SD Times magazine publish the '.NET Components Buyers Guide' that covers all leading component vendors.
The sourcebook helps developers get an overview of the available Visual Studio components. Like last year, TX Text Control is part of the listed companies.
From their introduction: The combination of Microsoft's Visual Studio 2010 and .NET Framework 4.0, together with third-party reusable components, tools and plug-ins, creates an unbeatable combination for enterprise developers and independent software vendors supporting the Microsoft platform.
Read the full TX Text Control article here: