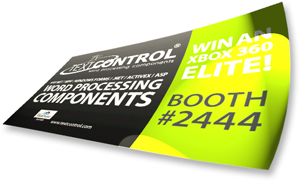 Only six more days until the doors open at Tech·Ed North America 2010 in New Orleans.
After the largely celebrated Visual Studio 2010 launch, Tech·Ed North America will be the largest Microsoft related conference this year. More than 150 exhibitors, including all the market leaders of the component industry will be on site.
We have already shipped our equipment to Louisiana and our team will follow shortly.
What can you see at our booth #2444?
If you visited us in Las Vegas, during the Visual Studio 2010 launch, you already saw the great co-operation with Infragistics. We presented a demo that showed how to implement a fully-featured word processing interface, based on TX Text Control .NET for Windows Forms and the Infragistics RibbonBar. At Tech·Ed North America 2010, we are going to show an extended version of this great demo.
Additionally, we will show you some demos created with our upcoming WPF version of TX Text Control. See how easily it can be used in an WPF XBAP project in the browser.
As always, you can ask our experts about your requirements or future developments of TX Text Control.
Don't forget to grab a raffle ticket to win an XBOX 360 Elite edition on the last conference day.
We look forward to see you in New Orleans.