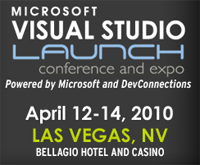 Preperations are moving at a fast pace and we are looking forward to presenting our latest developments and future plans at the largest and long awaited .NET conference:
The Visual Studio 2010 launch in Las Vegas, USA.
Developers, top speakers, such as Scott Guthrie and leading component vendors will gather at the world famous Bellagio for the Microsoft Visual Studio Conference & Expo.
If you plan to visit this conference, do not forget to stop by at our booth. I really look forward to meeting you in person.