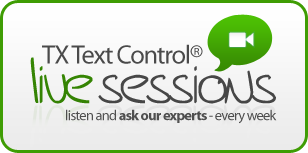 After another successful online webinar on yesterday, I would like to annouce the next online session for coming Wednesday:
September 2nd, 12PM (Eastern time)
This session will be a pure technical session with live coding parts. It shows how to integrate a browser-based WYSIWYG interface into your ASP.NET web application to edit documents directly in a browser.
In this webinar, you will learn the differences between ServerTextControl and BrowserTextControl and how they are used in combination in ASP.NET. You can ask your questions during the session.
Additionally, I will talk about our new sample project website labs.textcontrol.com and the ideas behind it.
Hurry up and register for this session - we have only 20 seats.