Don't print your documents!
Companies in the US are spending more than 120 billion dollars per year on printed forms and almost half (45%) end up in trash. Corporations are spending 4 weeks per year to find lost documents and on average, organizations completely lose about 7.5% of all their paper documents.1
These numbers are shocking - but they unveil the reality.
Aside from the implied environmental issues, the potential to increase productivity and save money by implementing electronic document processing workflows is astonishingly high.
The Benefits of using Electronic Documents
Anything paper can do, can be achieved using electronic documents in a better way. Paper remains at one physical location and cannot be easily shared. Electronic documents "live" in the cloud and can be securely accessed from everywhere. When enabling a streamlined electronic document workflow, the following key aspects are important:
Documents are always available
Documents are always up-to-date
Document ownership is transparent
Document status is accurate
Document collaboration is possible
Going Paperless
Going paperless saves storage, money and helps the environment. A streamlined document process makes collaboration easier and improves the overall customer satisfaction by enabling electronic signatures. Streamlined processes speed up business workflows and enables faster transactions.
Electronic Forms and Electronic Signatures
Electronic signatures or eSignatures is becoming a standard practice. The integration of digital document processing solutions including collaboration, document sharing and electronic signature processes help successful companies to serve their customers and support business continuity. Introducing electronic signature processes help in many areas including efficiency, saving costs and environmental aspects.
Using TX Text Control libraries, the complete workflow of creating, deploying and signing documents can be achieved.
Introducing electronic signature processes help in many areas including efficiency, saving costs and environmental aspects.
Legally Binding
Electronic signatures are legally binding and enforceable in most countries in the world.
Efficient
Improve transaction process efficiency and speed by offering electronic signatures.
Cost Effective
Reduce costs on paper, ink, postage and the manual processing of documents.
Environment
Safe trees and reduce paper consumption and vehicle emissions of cars carrying documents.
To learn more about the legal and technical requirements, we created the Electronic Signature Legality Guide.
The TX Text Control DocumentViewer supports the completion of MS Word compatible form fields during the document signing process: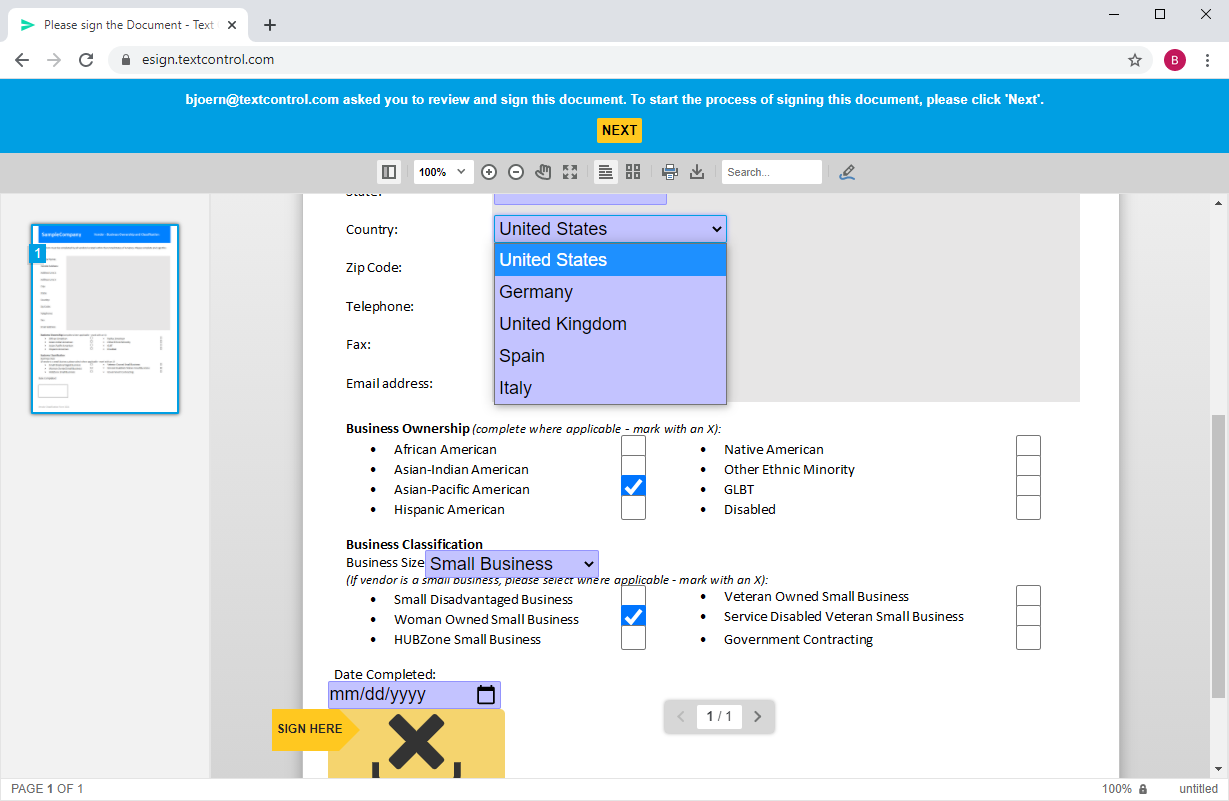 Contract Lifecycle Management
A poor contracting process results in long negotiation cycles, compliance problems and finally losing revenue. Modern CLM systems provide streamlined processes that help companies to focus on more high-value tasks and core business functions.
Text Control provides the required technology to integrate contract lifecycle management processes into your C#, Angular and ASP.NET Core applications. A fully featured, MS Word compatible editor helps both parties to modify, reject and accept changes and the process is done when both parties accept the state of the document.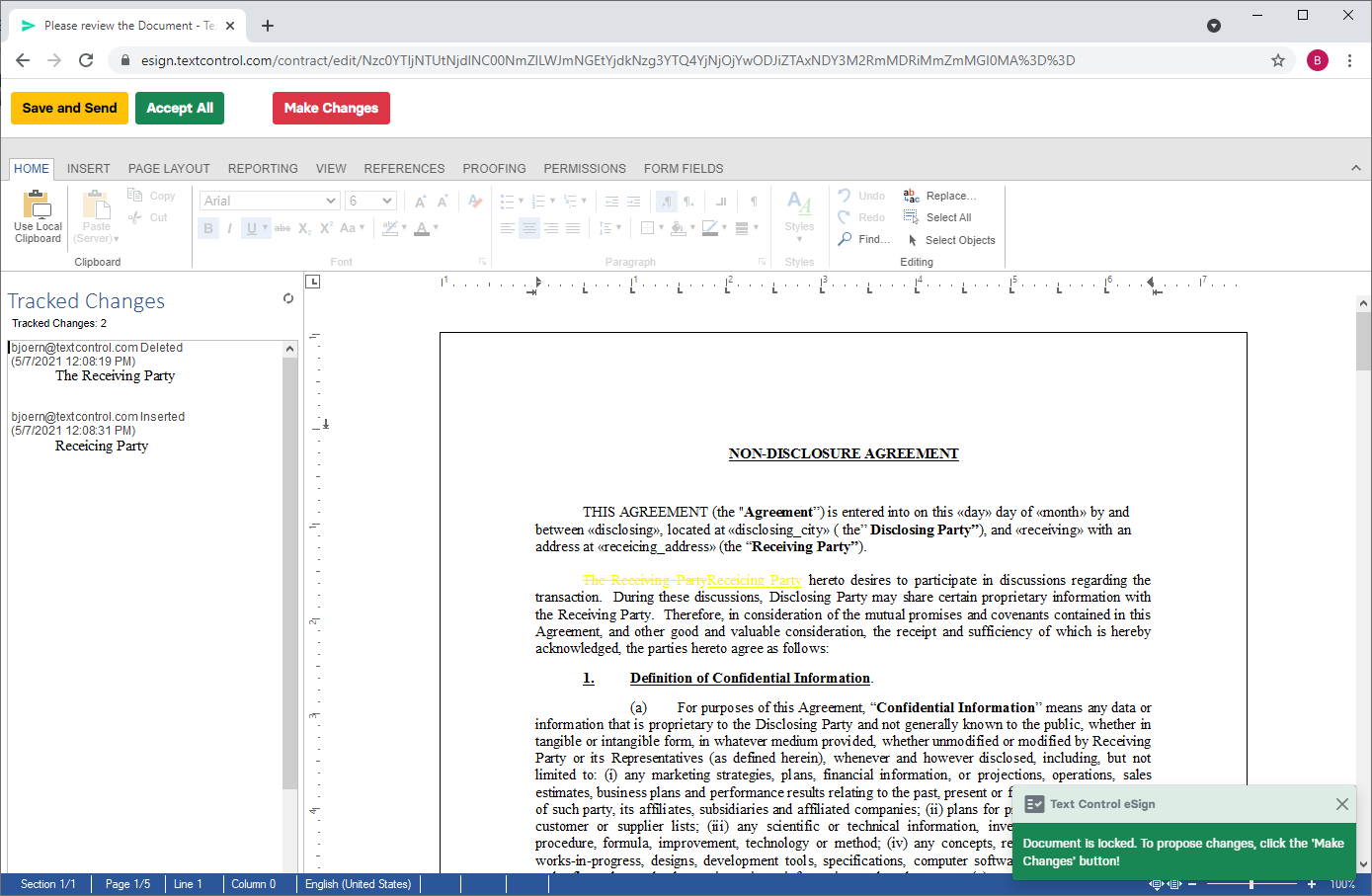 Document Collaboration
The biggest advantage of the TX Text Control DocumentViewer is the independency from the PDF format. Many document viewers are limited to the PDF format and support the typical PDF collaboration features. The TX Text Control DocumentViewer provides these annotation and collaboration features to all supported document formats including MS Word DOC, DOCX, RTF and the internal TX Text Control format.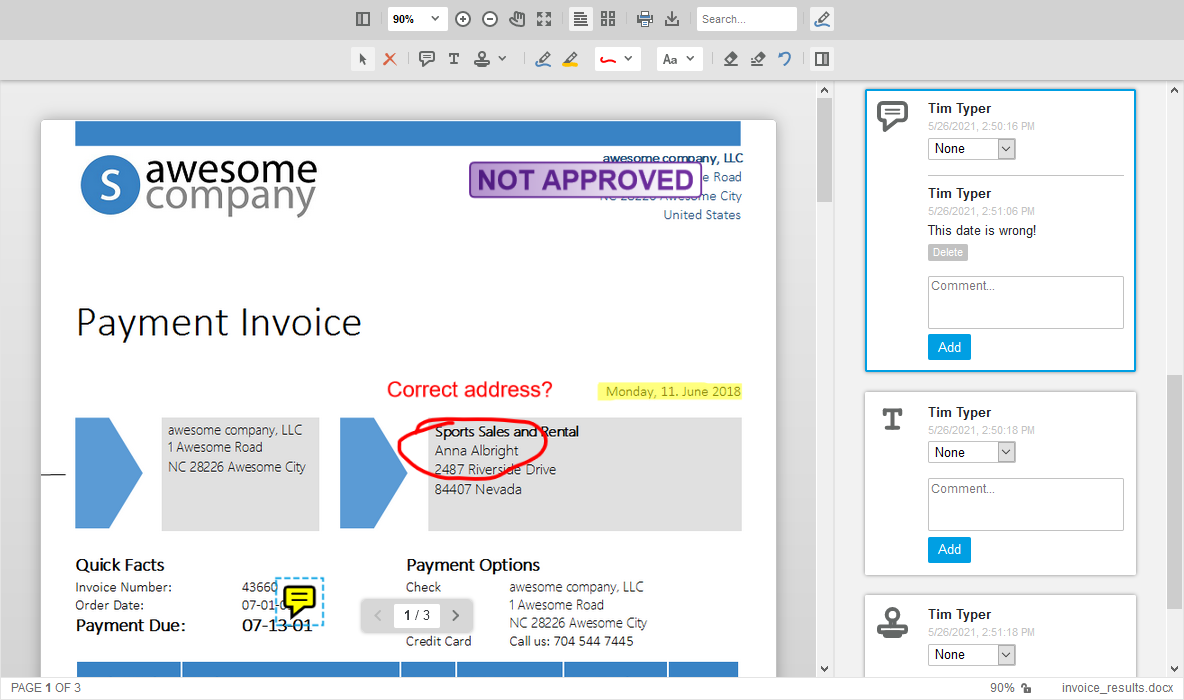 Reference Implementation
Together with technology leading clients, we added all essential parts of a document signature technology platform to our libraries to provide a complete set of tools that helps to integrate electronic signature processes into business applications.
To showcase a typical workflow and the Text Control electronic signature technology, we published a fully functional demo that can be used to create and request signatures, sign documents and to validate executed PDF documents.
Create a Prototype
If you are thinking about integrating streamlined document processing into your applications, our engineers can help with best practices and strategies for a successful integration.
1
Facts About Paper: How Paper Affects the Environment. https://www.tonerbuzz.com/facts-about-paper/