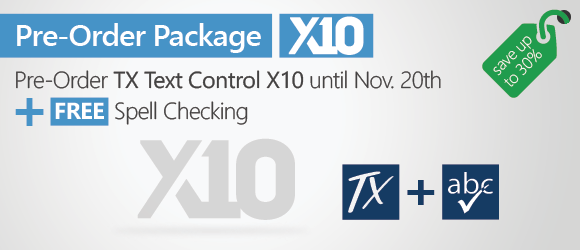 We are very happy to announce that new versions of TX Text Control, TX Spell and TX Barcode will be released next month. Until then, we have a very special offer for you:
The special offer:
Pre-order TX Text Control X10 Subscription now and get TX Spell .NET 4.0 for free
How does it work?
Simply order a TX Text Control X9 (19.0) Subscription (Full, Update or Renewal)
You will get TX Text Control X10 immediately on release day
You will get TX Spell .NET 4.0 Subscription (value: $698) for free on release day
Your Subscription won't start until release day - you don't lose any time by pre-ordering
Or Simply Call Us:
| | |
| --- | --- |
| +1 704 544 7445 (US) | +49 421 427067 10 (Europe) |
New and Improved Features in TX Text Control X10 and TX Spell .NET 4.0
Below is only a small selection of new features of TX Text Control X10 and TX Spell .NET 4.0.

Reporting: Business Objects, Labels, Images and Prefixed MergeFields
The Text Control Reporting Engine is part of all editions and versions of TX Text Control .NET (Windows Forms, WPF and ASP.NET). This allows you to integrate easy invoice generation, list and label creation or mail merge processes into your applications in all platforms.
Every kind of enumerable object, such as business or Entity Framework objects, can be used as the data source to merge documents.

Thanks to the newly supported NEXT and NEXTIF fields, labels can be created in a very easy way. The data record can be incremented in the middle of the template.

String formatters have been implemented. These formatters can be added to the template directly to guarantee a consistent format independently from the input.

MergeFields can be prefixed with a data table path separated with a '.' to merge data from sub-tables.

Image placeholders can be inserted and connected to a database column.

The Template Designer has been updated with improved Add Merge Field and Data Relation dialog boxes.

Full Right-to-Left Support: Hebrew and Arabic
With version X10 Text Control now supports Right-to-Left text rendering for languages such as Arabic or Hebrew.
Each line in a document can be bi-directional - it can contain text parts written from left to right and text parts written from right to left.

The paragraph formatting dialog box and the API has been extended to cover this new paragraph setting.

Mutlilingual Documents: Language Regions in the Document
It is now possible to set a specific language to a selection.
In combination with TX Spell .NET 4.0, the selected language is automatically used as the proofing language.

Also, the selected language is used for the new hyphenation feature of TX Text Control and TX Spell .NET 4.0 to hyphenate words in the desired language.

Multilingual Hyphenation
TX Spell .NET provides different methods to hyphenate words in multilingual documents.
The user can get the next hyphenation point before a specific divide position or an array of all hyphenation points for a defined word.

When connected to TX Text Control, the hyphenation works automatically based on the new language regions in TX Text Control.

Improved Memory Footprint and Dictionary Loading Performance
In order to increase performance and usability, significant improvements have been implemented in TX Spell .NET 4.0.
The loaded dictionaries allocate less system memory and are loaded asynchronously which increases the overall initialization performance.

This relation between having dictionaries loaded into memory and spell checker performance allows for optimum spell checking results.
The special offer:
Pre-order TX Text Control X10 Subscription now and get TX Spell .NET 4.0 for free
How does it work?
Simply order a TX Text Control X9 (19.0) Subscription (Full, Update or Renewal)
You will get TX Text Control X10 immediately on release day
You will get TX Spell .NET 4.0 Subscription (value: $698) for free on release day
Your Subscription won't start until release day - you don't lose any time by pre-ordering
Get a Quote for your Pre-Order
Or Simply Call Us:
| | |
| --- | --- |
| +1 704 544 7445 (US) | +49 421 427067 10 (Europe) |