We are more than happy to introduce our new Text Control Support Center. Text Control Subscriptions give you an entire year of technical support, access to new versions, new features and bug fixes.
Subscribers are now getting access to the Support Center. Our goal is to enhance your support experience significantly. You will have the ability to track and monitor your support cases, you can upload attachments and chat to your assigned support engineers.
The Support Center is now available at this web address:
https://support.textcontrol.com
This quick introduction shows how to create a new support ticket.
When visiting the support center, you are presented with two main options: Create Ticket and View My Ticket. To open a new support case, click on Create Ticket.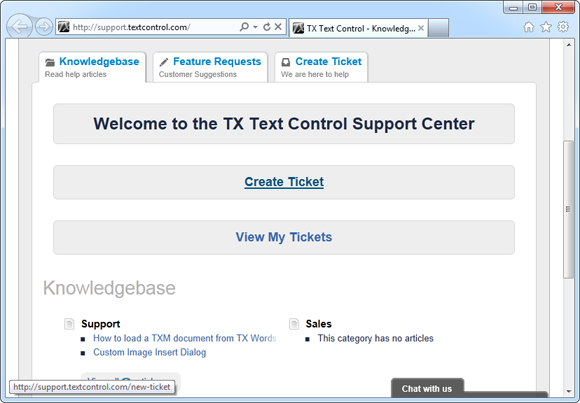 Complete the support form by providing your e-mail address, name, some product information followed by the question or problem description. To support your description, you can upload Visual Studio projects, screenshots or any other documents that help our engineers to analyze your support case. Finalize your request by clicking Submit.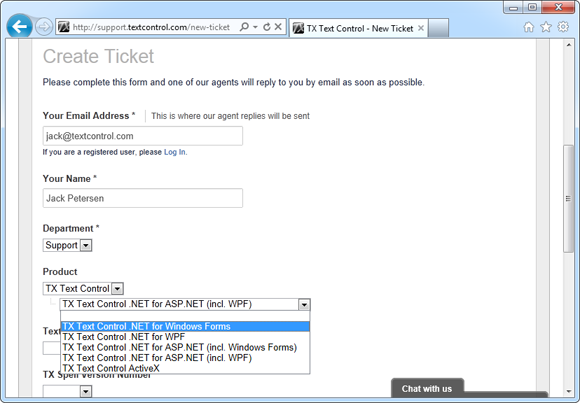 An e-mail has been sent to your e-mail address that contains a confirmation link. Click on the link to verify your e-mail address. After that, you will receive a confirmation e-mail with a link to your support case. Complete the I am a new user registration form and confirm with submit.

As a logged in user, you can see your open and already closed tickets. You can monitor the current status, the assigned agent and you can edit the current ticket. Additionally, you can upload more attachments or leave another reply.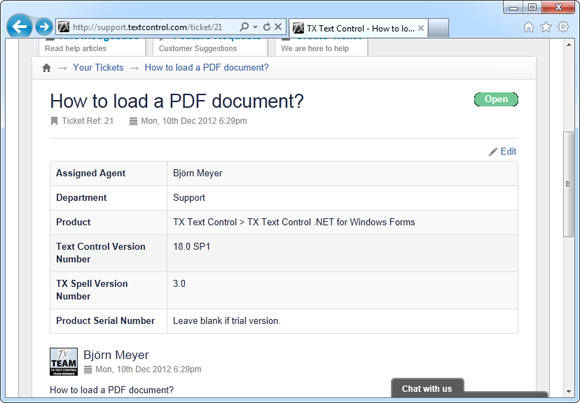 The new Support Center includes more interesting features such as a new live chat, a knowledge base and feature requests. Stay tuned to learn more about the new features.