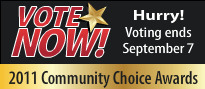 Every year, the readers of the DevProConnections magazine vote for their favorite products and services. This year, TX Text Control has been nominated in 4 categories for the 2011 DevProConnections Community Choice Awards:
17. Online Editor
18. Printing/Reporting Tool
27. Free Tool
28. Best Vendor Support
The TX Text Control developer and support team would be very happy, if you vote for our products or support services. Our technical support has been nominated in the category Best Vendor Support as well.
Thanks for your help and thanks for considering a vote for us.