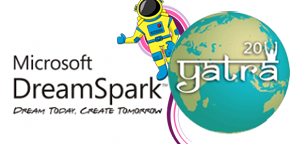 Dream today - create tomorrow. DreamSpark is a student program founded by Microsoft back in 2008 to provide students around the world with free development tools such as Visual Studio Professional, Expression Studio or SQL Server.
The Trichy, India based Rockcity .NET User Group, organizes the community event Microsoft DreamSpark Yatra 2011. This event can be compared to an MSDN code camp in the United States. It is supported and financed by partners and sponsors. Participation is free of charge and the technical sessions have a similar technical quality to those at pricey conferences.
We are proud to support these great and active people from the Rockcity .NET User Group. So, if you are in the Tiruchirappalli area on Sunday, March 13, register online for this great event. Hurry up, it is limited to 850 attendees.