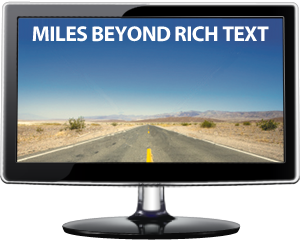 MILES BEYOND RICH TEXT is our mantra. But what does it mean to us?
Word processing is a passion of our developers and for the rest of our team. We strive to provide innovations, stable code and the best available rich text components. We have been living this for the last 20 years. And, judging your feedback, we are going a very good job!
However, we have not yet arrived at our destination: there are so many new features, technologies and innovations to discover and implement.
Our main goal is to include you - our users - in the development process. TX Text Control benefits from your feedback, which helps us build the best possible software components.
Recently, we established the TX Text Control MVP program. We have already nominated 3 exceptionally active, professional and very friendly users. They immediately accepted the title. We are very proud of our first MVPs. If you meet them in the TX Text Control forums, ensure that you congratulate them on their status. But the MVP program is just the first step. We have many other plans to involve our users.
Future goals we are considering:
Feature requests
We already have an open forum for your feature requests. You can add your wishes to this list and they will be considered for upcoming versions:
TX Text Control Feature Requests
We will include some more functions to measure the priority of these features like a poll.
User contributed content
Several months ago, we introduced the user contributed note system for the documentation and blog area of our website. This system allows you to add notes to the TX Text Control documentation. Maybe you have an interesting code snippet for a specific property or method? Feel free to post it. We will extend the possibilities to help you to contribute more content, such as sample projects.
User meetings at conferences
What else would you like to see? Feel free to share your thoughts.
I will end this post with our mantra: MILES BEYOND RICH TEXT.