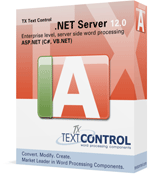 Recently, many of our customers have been migrating their legacy client side software to server based applications. This indeed, as our latest white paper states, is a trend in enterprise level document creation and publishing.
Business critical documents must always be up-to-date and customized depending upon the recipient or the publisher. The recently released TX Text Control Server for ASP.NET (incl. Windows Forms) 12.0 assists enterprises in achieving this goal.
Key Benefits of Server Side Applications
Below is a brief summary of what we consider to be the key benefits of server side applications:
Centralize document creation and publishing processes
Personalize documents depending upon their recipient or author
Ensure documents are always stored in their most current version
Create documents in DOC, PDF and RTF, independently from any third party software
Merge templates with data from a multitude of data sources
Merge various document types into one unified document
Create HTML data entry forms to be used in a template
Easily integrable into enterprise workflow applications
Programmatically generate documents on-the-fly
Migrating your current client side applications to a contemporary server side application is far less hassle that you probably imagine. If your application is written using TX Text Control .NET for Windows Forms, modifying it to run with TX Text Control Server for ASP.NET (incl. Windows Forms) is not that difficult. My co-workers and I are here to assist with all technical issues, relating the migration and to TX Text Control in general.
What's Next?
I would be only too delighted to talk to you on the telephone to discuss the benefits of server side applications and of course in particular, how you can use TX Text Control Server for ASP.NET (incl. Windows Forms) to migrate your current client based applications.
Similarly, if you are considering a new project in which you have to process text and generate word processing documents, and are considering building a client side application, still get in contact with me: We can discuss together whether a server side application would not better meet your goals. Often, it is only at second glance that one realizes that the client side mindset may not be the correct way to go.
Contact us or let me call you back.