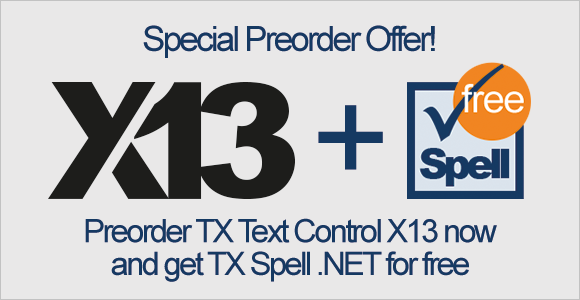 TX Text Control version X13 will be coming soon, so from now until release, we are providing a special preorder offer. Be one of the first to get their hands on the new features and functionality available on release day.
What is the Special Offer?
Pre-order TX Text Control X13 Subscription now and get the same number of licenses for TX Spell .NET 6.0 for free (also updates and renewals for existing TX Spell .NET licenses).
Which Orders Are Eligible?
All Subscription orders including full versions, updates and renewals are eligible.
How Does It Work?
You order your Subscription licenses now (version X12) and you will receive version X13 and your TX Spell .NET licenses immediately on release day. Your Subscription won't start until release day - you don't lose any time by pre-ordering.
What is New in X13?
TX Text Control X13 will provide many new features and improvements. Please note that not all features of TX Text Control X13 have been announced publicly yet, but here are some selected major features.
MS Word Compatible Drawings and Shapes
The screenshot below shows the new ribbon interface to insert 180+ different shape types into TX Text Control: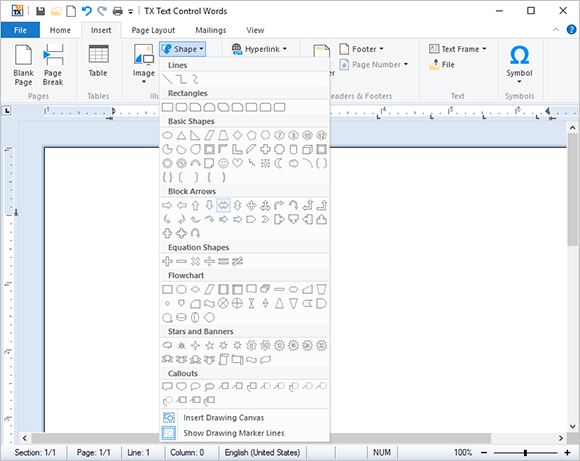 The shapes can be inserted as single objects or grouped in a Drawing Canvas into TX Text Control and can be completely customized using the ribbon interface, a ready-to-use dialog box and programmatically using the TX Text Control API. When activating drawing objects, a fully featured editor is available to modify the shapes.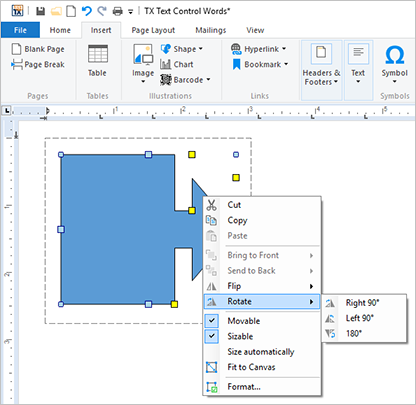 MailMerge: Integrated Merge Blocks
In previous versions, merge blocks were defined by two bookmarks with special names. This concept is flexible, but not very user-friendly. Therefore, we integrated the repeating merge block as a document element into the core of TX Text Control. The new element, a SubTextPart, is a range of text that includes other elements such as table rows, complete tables, paragraphs and all other elements such as merge fields, images and the new shapes.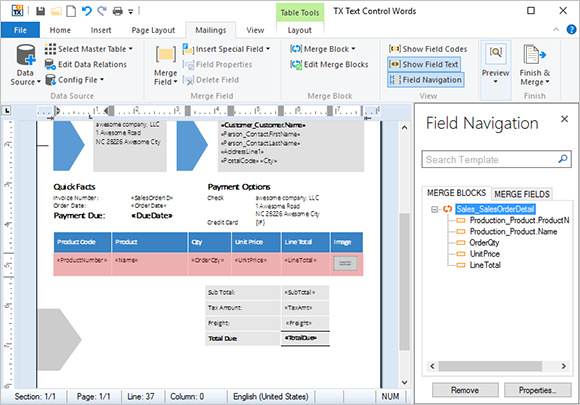 Adding the merge blocks directly as a document element to the core of TX Text Control has another benefit: Performance. The performance of merging blocks within MailMerge increased up to 40% - a boost you can directly feel when previewing templates in the template designer.
New Dialog Boxes
TX Text Control X13 provides new dialog boxes to insert symbol characters, hyperlinks and bookmarks. Additionally, a Goto dialog has been implemented to jump directly to pages, sections, tables, lines or bookmarks.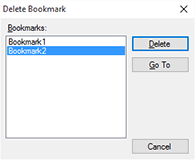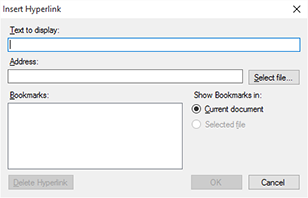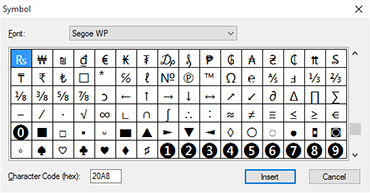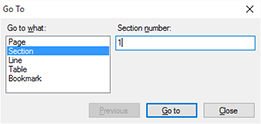 Document Properties
General document properties such as author, creation date or keywords can be saved and loaded within all supported text formats using new properties in the SaveSettings and LoadSettings.
Undo/Redo Grouping
A user-defined undo step can be defined using the new BeginUndoAction and EndUndoAction methods. All editing and formatting changes made between these methods belong to the undo operation. All of these changes are undone or redone in a single step. The user can define a name that is available with the UndoActionName property.
These are just some of the new features of TX Text Control X13. Stay tuned for more.
How to proceed?
Call One of Our Offices Today and Place Your Order:
| | |
| --- | --- |
| +1 704 544 7445 (US) | +49 421 427067 10 (Europe) |
Or simply place your order online in your online store: