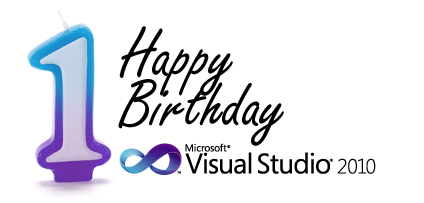 Microsoft is celebrating the 1st birthday of Visual Studio 2010 with it's Visual Studio Industry Partners (VSIP). If you did not read the blog entry by Sivaramakrishnan Somasegar, please take a look at:
Happy 1st Birthday, Visual Studio 2010!
As you are probably aware, we have been integrating the latest features and technologies offered by Visual Studio 2010 into TX Text Control right since the very first beta. Recently, we released the Visual Studio Team Foundation Server package for TX Text Control .NET for Windows Forms, which offers support for the build server features. Read more about this at:
Full Visual Studio 2010 support with TX Text Control .NET 16.0
Happy birthday Visual Studio 2010 - and happy coding to all our users!