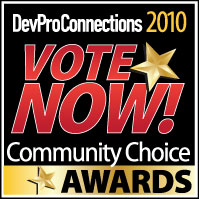 The magazines Windows IT Pro, SQL Server Magazine and DevProConnections started the Community Choice Awards 2010 voting. They are giving IT Pros, DBAs and developers the chance to vote for their favorite products.
Two TX Text Control products have been nominated in the 'developer' categories for DevProConnections (both categories are on the second page of the survey):
Online Editor - TX Text Control .NET for Windows Forms
Printing/Reporting Tool - TX Text Control Server for ASP.NET (incl. Windows Forms)
Vote today in the DevProConnections Community Choice Awards 2010.