Changing business and market requirements demand the transformation and new creation of business processes and customer experiences. Every step in business transactions and customer touch points is going through this digital transformation process to stay ahead of the curve.
Software helps reimagining the way how users interact with companies and processes.
Digitization: From Analog to Digital
Decades ago, we went from paper to computer files. This was the beginning of the complete process. Digital transformation requires digitization and digitalization. In the first step, analog data is stored digitally in computer files and databases. In the process of digitalization, this information is always accessible. Digital transformation changes processes to add value to each transaction.
At Text Control, we always focus on how to help our customers with these required steps to gain a competitive advantage. With our technology, our customers integrate powerful document processing and automation into applications that help transforming business transactions.
Whether documents need to be created, automated, shared or processed - with Text Control components, software vendors can focus on core competencies and rely on our knowledge and experience.
Document Editing
Text Control products can be used to create documents programmatically from scratch, pre-designed templates can be used to populate merge fields with data and documents can be edited using an online, MS Word inspired document editor. Not being dependent on an additional third-party tool such as MS Word to create templates is a very important key aspect when implementing word processing functionality into business applications.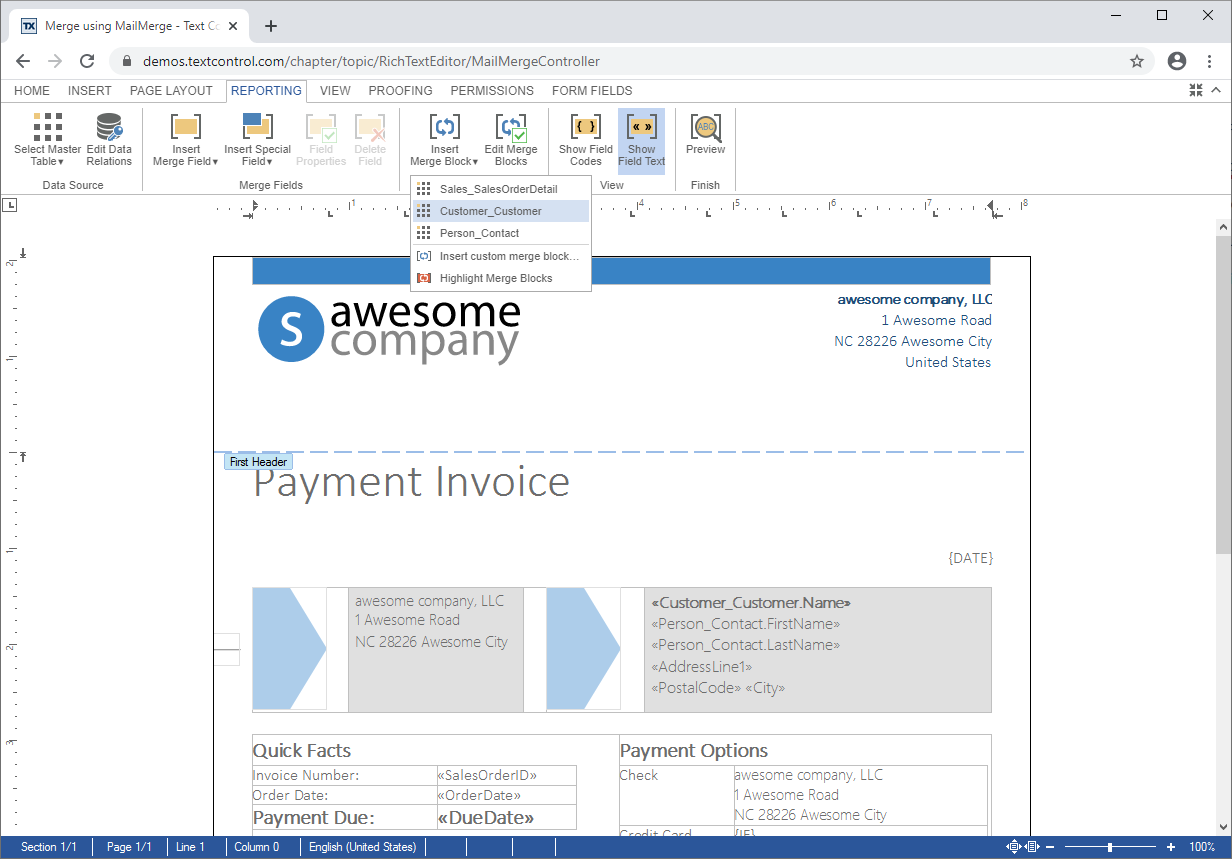 The MS Word compatible editor has the look and feel of MS Word, but can be customized and adapted to user requirements. MS Word templates can be reused and edited in TX Text Control.
Reporting and Mail Merge
TX Text Control combines the power of a reporting tool and an easy-to-use WYSIWYG word processor - fully programmable and embeddable in web applications.
Conventional banded report designers are complex - Text Control reporting is easy to understand and thanks to WYSIWYG, the template is rendered exactly the same like on paper or in an Adobe PDF. Like in Microsoft Word, users can easily add elements to the report such as tables, pictures, barcodes and headers and footers.
Document Automation
Replacing MS Office Automation in applications is one of the most typical use cases for document APIs such as TX Text Control. Using TX Text Control, documents can be automated, edited and created using UI and non-UI components.
MS Word compatible mail merge and reporting functionality is natively supported by TX Text Control that gives access to flow type layout reporting features in an easy-to-use and reusable component.
Creating Fillable Forms
TX Text Control provides a comprehensive way to create documents with fillable form elements such as form text boxes, check box fields and drop-down elements. Documents with form elements such as form text boxes, check box fields, drop-downs and date picker elements can be created like mail merge templates and dynamically pre-completed with known values. This helps to generate custom forms where some fields are already completed with known values to accelerate the completion process and to improve the user experience.
PDF Integration
Using TX Text Control, PDF documents can be easily created, shared and collected in business applications. PDF forms with fillable form elements can be created and collected by reading the completed documents in order to analyze and store the data. TX Text Control can be used to cover the complete PDF document workflow from creating the document to processing incoming documents in business applications. Combined with the powerful template-based document creation engine, TX Text Control provides developers the complete solution to handle PDF documents in business processes.