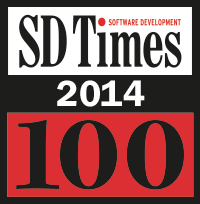 It is the time again when the software development industry is getting excited about the announcement of the SD Times 100 winners. Last Friday, the SD Times published the top leaders and innovators in our industry.
We are proud to announce that Text Control has won this award for the fourth consecutive year!
We are listed in the category 'User Experience' - a high priority attribute of our reporting and word processing components.
Read more about the leading companies in our industry:
SD Times 100: The Elements of Success
We are very proud of this award and would like to thank you - our users - for your consistant support.