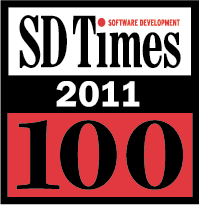 They write the songs. Since 2003, every year, the editors of the SD Times recognize companies, non-commercial organizations, open source projects and other initiatives for their innovation and leadership. Those selected organizations are listed in the SD Times 100.
We are very proud to be recognized as a leader in the Components section. It feels good to be mentioned in the same list such as Microsoft or Google.
This award strengthens our resolve to innovate - not imitate! For the last 20 years, our mission has been to be innovative in the field of word processing. Research and development is part of our daily bread. The resulting products assist our customers to work in a productive and highly efficient manor.
Thanks SD Times for your recognition. Thanks to our users for making TX Text Control better every day.