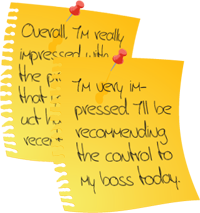 I was recently asked by a new TX Text Control user to provide some user testimonials for TX Text Control.
I know that we are getting very good feedback from our users, but I wanted to be sure. I asked our technical support whether we are getting this kind of feedback from our users.
They confirmed that we are receiving loads of such statements every day.
I did a quick search on our support ticket system and searched for the term "impressed" and did't expect too much. Hundreds of search results impressed me. Here are some samples:
For the record, I'm very impressed with the level of support received so far, particularly for a trial user, and I expect to be purchasing the full control fairly soon.

John F.
I'm very impressed. I'll be recommending the control to my boss today.

Christian C.
We have bought your control after my evaluation of it. We were very impressed with it's flexibility and features.

Mark H.
As a new customer, I would like to say thank you for an impressive product. It has been a pleasure to work with from day one!

Roar M.
Overall, I'm really impressed with the progress that your product has made recently.

Sergy L.
I have been extremely impressed with it's abilities as a an editor and with what is provided, the .NET integration and setup was easy and the programming model is straightforward.

Christian B.-H.
Our company has been very impressed with the TX Text Control .NET throughout the evaluation period. Today, I just purchased the professional edition.

Paul C.
I was able to develop a prototype and demonstrate its capabilities to my superiors, which were impressed by the requirements achieved by using your component, and I added my personal testimony, which was greatly positive.

Damien G.
We are very impressed with the TX Text Control, and want to use it in our upcoming project.

Glenn M.
Personally, I am always questioning such user testimonials when I see them on product websites. We also get critical feedback about missing features or known issues, and this is the kind of feedback that helps us improve and is also important to us. Using this critical feedback we can make TX Text Control even better. Nevertheless, positive feedback proves that we are on the right track. Thanks for your help.