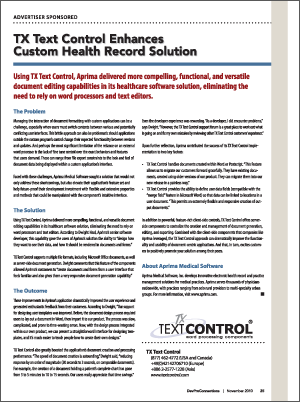 The developer magazine DevProConnections published a TX Text Control success story in their November issue.
The article describes how the healthcare company Aprima used TX Text Control to deliver more compelling, functional and versatile document editing capabilities in its healthcare software solution.
From the article:
These improvements in Aprima's application dramatically improved the user experience and generated enthusiastic feedback from their customers.
According to Dwight Neal, Aprima's senior software developer, "Our support for designing user templates was improved. Before, the document design process required users to lay out a document in Word, then import it to our product. This process was slow, complicated, and prone to time-wasting errors. Now, with the design-process integrated in our own product, we can present a straightforward interface for designing templates, and it's much easier to teach people how to create their own designs."
Download the article as PDF here:
[PDF],
TX Text Control Enhances Custom Health Record Solution