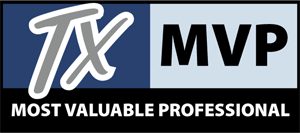 I am very happy to announce the official start of the TX Text Control MVP Program. We have decided to introduce this special program to give recognition to users who are very active in the TX Text Control community.
What are the benefits of being a TX MVP?
A TX MVP avatar in all TX Text Control forums to be recognized as an MVP.

Access to a private MVP forum to talk to TX Text Control team members directly.
Boost your career by adding your MVP status of a well known and recognized leading component vendor to your CV.
Possibility to get free conference passes where TX Text Control is exhibiting.
20% discount on all licenses.
How to apply?
Leading community members will be recognized by our support team or suggested by other users. Have you use TX Text Control in a large project and you think you squeezed more functionality out of TX Text Control than others? You can also apply for this status by sending us an e-mail stating why you should be an MVP. Act now and contact us:
Apply for the TX Text Control MVP status
This is the next step in a thriving community. We have more plans in the near future to cultivate a healthy user community.