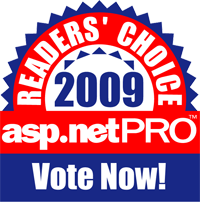 Voting for asp.netPRO's Reader Choice Awards is now underway and continue until April 25th 2009.
The survey includes all market leading software components, tools and IDEs. TX Text Control can be found on page 2, categorized under:
16. Online Editor
24. Utility
Vote for your favorite products - I would be glad, if you would vote for TX Text Control.