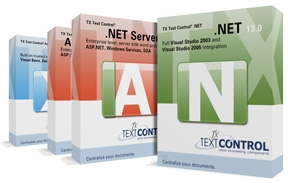 I am delighted to announce that we have just released the following TX Text Control products:
New and Updated Features
True Browser-based Rich Text Editing
Create fully featured, true WYSIWYG word processors with TX Text Control Server for ASP.NET (incl. Windows Forms) 13.0.
Paragraph Formatting
Set multiple new paragraph attributes with shipped dialog box.
Horizontal and Vertical Ruler Bars
Set margins, height of headers and footers and width and height of table cells.
Contemporary Application Look and Feel
Create slick and highly usable applications with the new styling options.
Hypertext Links in PDF Documents
Convert hypertext links to their PDF pendants on export.
Clipboard Import
Import HTML formatted text directly from the clipboard.
Text Fields and Hypertext Targets
Multiple field handling improvements.
Find out More About TX Text Control 13.0
If you would like to learn more about the new version, please take a look at the following:
My co-workers and I would be delighted to talk to you about the new version of TX Text Control. We are here to offer you assistance and advice in all matters.
Please do not hesitate to contact us.