The German component vendor combit announced support for TX Text Control objects within the reporting tool List & Label. In combination with the developer library TX Text Control .NET for Windows Forms, List & Label users benefit from the advantages of TX Text Control's rendering engine and can use it in form of a designer object in reports.
Replacing RichTextBox
The integrated rich text object in List & Label is based on the Microsoft RichTextBox object. While good for many purposes, this component comes with some drawbacks and limitations such as missing table support, true WYSIWYG rendering, text frames or page columns. A detailed comparison table can be found in this article:
Feature Comparison: TX Text Control Vs. Microsoft RichTextBox
If users are facing formatting issues with rich text content in List & Label reports, the TX Text Control designer object can be utilized to solve these limitations.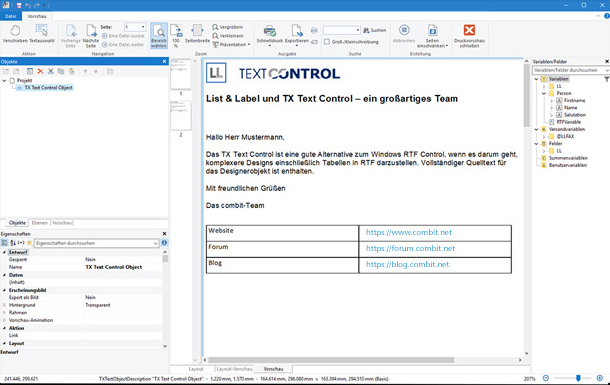 Learn more about the co-operation and technical details in this overview article: