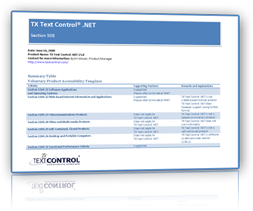 Section 508, part of the Rehabilitation Act, was adjusted by the U.S. Congress to require that all Federal agencies make their electronic and information technology accessible to users with disabilities. It was enacted to remove barriers in information technology.
We always make sure that all products and versions of TX Text Control are Section 508 compliant. Thus implies that the Windows built-in accessibility features are supported and well tested in combination with TX Text Control. The following accessibility tools has been tested:
Magnifier
Narroter
On-Screen Keyboard
High Contrast
Magnifier
Sticky Keys
Currently, we are working on the official templates for all products. You can find more detailed information on how TX Text Control .NET for Windows Forms is compliant by reviewing our Section 508 Voluntary Product Accessibility Template (VPAT):
For more information, please see http://www.section508.gov.