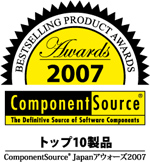 ComponentSource has just announced the winners of the ComponentSource® Awards in Japan 2007:
ComponentSource Bestselling Product Awards in Japan 2007
We are proud to announce that TX Text Control is again a Top 10 product out of more than 1300 products that are sold at ComponentSource. In Japan, we finished with place 7 in the product ranking of 2007.
Thanks to ComponentSource for our long-termed and very close partnership since more than 13 years and of course thanks to all loyal customers.