The Sample Program
Delphi User's Guide > A Forms Filler
With the Forms1 sample program, you can place text fields at arbitrary positions on a page. When you print the page, the text fields appear on the paper at exactly the same positions where they were previously placed on the screen. These features will be used in the following sample to create a program for filling out pre-printed forms.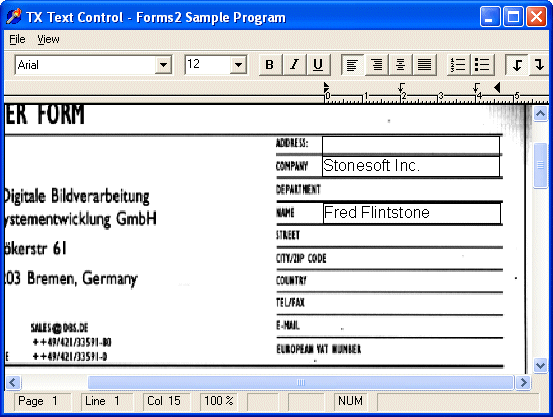 The scanned image of the form is shown in the background of the screen, enabling the user to easily determine the positions of the filled-out fields. He has only to click (with the CTRL key pressed) on the area of the form where he wants to put text and then start typing. The fields can be moved and resized afterwards by holding down the ALT key and dragging them with the mouse.
The source code for this example is contained in the Samples\Delphi\Forms2 sample source directory.