Digital transformation is impacting any process and experience across industries. Digital transformation in healthcare is the usage of technology to improve operations, increase the patient experience and to save costs to make the patient care more accessible.
With modern healthcare systems, technology helps to book appointments, integrate electronic medical records (EHR and EMR) and to provide unified platforms to exchange data between providers and insurances.
With the help of big data and data aggregation, all important information can be collected form a variety of sources including:
Electronic health records
Lab results
Imaging
Historical insurance claims
Medical devices (ultrasound, MRI, X-rays)
Pharmacy data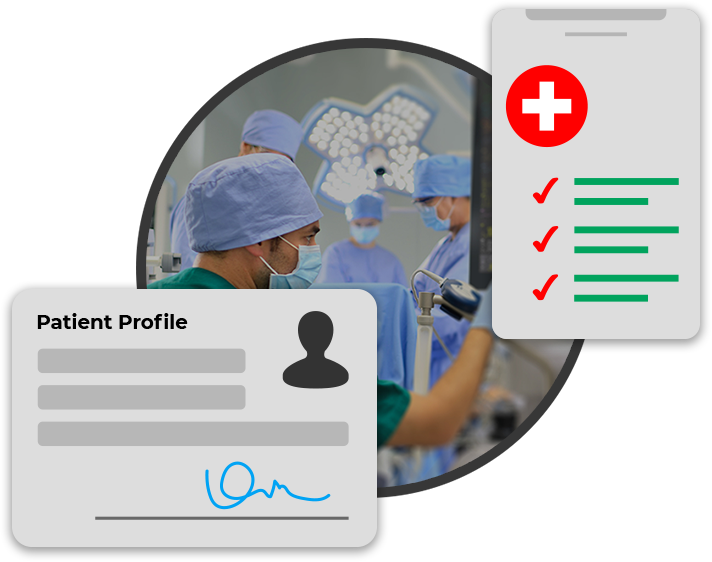 Data Aggregation
The goal of a structured data aggregation is to improve the patient care and to lower costs. All relevant data is accessible together to create a comprehensive patient profile. This reduces expensive time staff would spend finding and sorting patient data and paperwork.
Based on our technology, we help customers to implement a consistent and streamlined digital document processing strategy.
Text Control is used in the majority of leading* healthcare EHR and EMR systems and provide the perfect tool-set healthcare document processing requirements.

*The top 20 most popular EHR software, Capterra
Every day, thousands of doctors and nurses use Text Control technology to collaborate, chart and document patient data in leading EMR/EHR clinical solutions.
In a close cooperation with our partners in the healthcare industry, we always try to find new ways to improve document processing tasks that help our customers building better software that enables healthcare workers focusing on their job.
Text Control Healthcare Features
Many important healthcare features are available out-of-the-box in our libraries. They have been tested and improved every day by healthcare workers.
Talk to us!
If you are planning to add a more streamlined document processing into healthcare applications, simply talk to our engineers to learn how can benefit from Text Control technology.