TX Text Control X9 and TX Barcode .NET have been released last month and we are working on service packs to address known issues and to include improvements and new features.
In the next couple of weeks, we will publish service packs for the following products:
TX Text Control X8 (SP3)
TX Text Control X9 (SP1)
TX Barcode .NET 2.0 (SP1)
TX Spell .NET 3.0 (SP2)
As always, our service packs are cumulative and can be installed on top of your installed version. Each service pack is a roll-up of previous versions including all service packs. A detailed known issue list will be published with the release of the new service pack versions.
New Barcode Type in TX Barcode .NET 2.0 SP1: PDF417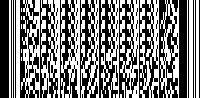 Service Pack 1 for TX Barcode .NET 2.0 will include a new barcode type: PDF417. The Portable Data File barcode is a stacked linear barcode symbol format and is used in various applications. It is used by FedEx on package labels and it is printed on each and every air travel paper boarding pass.
We always recommend to use the latest service pack version of our products - watch out for new service packs soon.